FOR DEMO WHATSAPP US ON +2348061676089
SEND US A MESSAGE ON FACEBOOK FOR MORE INFO and DEMO
https://facebook.com/websaro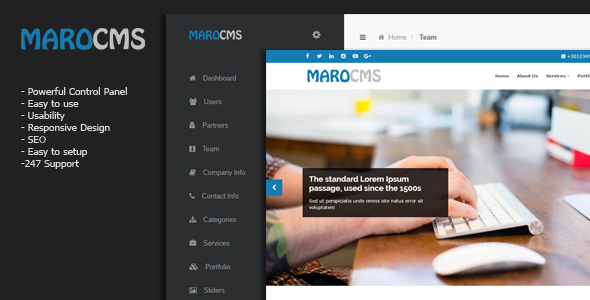 MaroCMS is a next-generation business content management system that is designed to empower businesses of all sizes to take control of their online presence. With a powerful set of tools that are easy to use, MaroCMS makes it possible to create and manage your own website, blog, and online store with ease.
Key features of MaroCMS include:
1. Fully Responsive Design
MaroCMS is built using the latest web technologies, ensuring that it is fully responsive and mobile-friendly. This means that your website will look great and work perfectly on any device, whether it is a desktop computer, tablet, or smartphone.
2. Easy to Use Page Builder
With MaroCMS, you can create stunning web pages using the drag-and-drop page builder. This intuitive tool allows you to create unique layouts and designs without any coding knowledge.
3. Ready-Made Templates
MaroCMS comes with a variety of professionally designed templates that you can use as a starting point for your website. Each template is fully customizable, allowing you to add your own text, images, and branding.
4. Blogging System
The built-in blogging system enables you to create and publish content that engages your audience and helps you build a following.
5. eCommerce Support
With MaroCMS, you can easily create an online store for selling products and services. The system can handle everything from orders and payments to inventory management and shipping.
6. Social Media Integration
MaroCMS allows you to connect your website to your social media accounts, making it easy to share your content and engage with your audience.
7. SEO-Friendly
MaroCMS is built with search engine optimization in mind, making it easy to create content that ranks well in search engine results pages.
8. User Management
The user management system in MaroCMS makes it easy to create and manage user accounts on your website, ensuring that you have full control over who can access your content.
9. Multilingual Support
With support for multiple languages, MaroCMS enables you to create websites that are accessible to audiences around the world.
10. Analytics and Reporting
The built-in analytics and reporting tools provide insights into how your website is performing, making it easy to identify areas for improvement and optimize your online presence.
Overall, MaroCMS is a powerful and flexible content management system that is perfect for businesses looking to take their online presence to the next level. With its intuitive design and powerful features, MaroCMS is the ideal choice for business owners who want to create and manage their own website with ease.
[