FOR DEMO WHATSAPP US ON +2348061676089
SEND US A MESSAGE ON FACEBOOK FOR MORE INFO and DEMO
https://facebook.com/websaro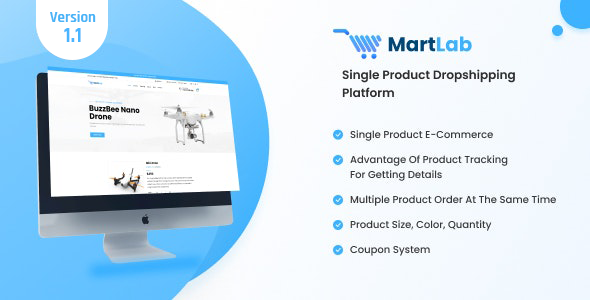 MartLab is the ultimate solution for anyone looking to create a single product dropshipping platform. With its intuitive interface and user-friendly features, you can launch your own online store in minutes and start selling your products to customers all over the world.
With MartLab, you can easily connect with suppliers and manage your inventory, shipping, and payments all from one central platform. Our powerful and intuitive dashboard allows you to easily manage and track your orders, shipments, and customer data with ease.
Key Features:
1. Single Product Store Management:
Easily manage and create a single product store on MartLab and customize your store layout.
2. AliExpress Integration:
MartLab comes equipped with AliExpress integration, allowing you to easily find products to sell and import them to your store.
3. Customizable Checkout:
Customize and manage your entire checkout experience, including payment methods, shipping options and tracking processes, and more.
4. Automated Order Fulfillment:
MartLab automates order fulfillment, tracking and detailed analytics and reporting on the order processing stages enabling smooth operations for your business.
5. Seamless Payment Integrations:
MartLab provides seamless payment integrations to ensure smooth transactions with customers.
6. Advanced Reporting:
MartLab has advanced reports for business analysis & growth.
7. Responsive Design:
The platform is designed using bootstrap, making it responsive and mobile-friendly.
Whether you're just starting out or looking to take your dropshipping business to the next level, MartLab is the perfect solution for your single product store needs. Try it now and see the results!
[