FOR DEMO WHATSAPP US ON +2348061676089
SEND US A MESSAGE ON FACEBOOK FOR MORE INFO and DEMO
https://facebook.com/websaro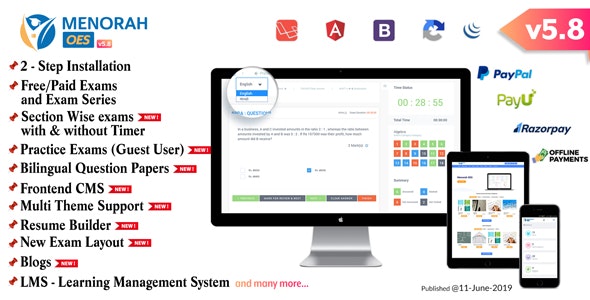 MenorahOES is an advanced online learning and examination system designed for academic and corporate institutions to conduct online assessments and provide comprehensive, self-paced learning experiences to their learners. MenorahOES features a robust and scalable architecture that ensures seamless performance across multiple devices and platforms.
MenorahOES is packed with features to make the online learning experience more interactive, personalized, and seamless. Some of the key features include:
1. User Dashboard: Users can easily manage their profiles, track their progress, view their exam scores, and access course materials.
2. Course Management: The system supports multiple courses, and administrators can create, manage, and publish course content easily. It also allows course creators to divide courses into sections, add quizzes, assignments, and multimedia content.
3. Online Assessment: MenorahOES supports different types of assessments, such as multiple-choice questions, true/false, fill-in-the-blank, and essay questions. It also has features like time limits, negative marking, and randomization.
4. Reporting & Analytics: The system generates detailed reports on learner progress and performance, exam results, and course completion rates. It also has robust analytics that help administrators monitor usage and identify areas for improvement.
5. Notifications & Communication: The system sends notifications and reminders to learners about upcoming exam schedules, course deadlines, and progress updates. It also has a built-in messaging system that facilitates communication between learners and instructors.
6. Security & Compliance: MenorahOES has robust security features to ensure the safety of learner data, prevent cheating, and protect against unauthorized access.
MenorahOES is a flexible, customizable, and intuitive online learning and examination system that provides a powerful and comprehensive solution for academic and corporate institutions. It helps streamline education and training, create a better learning experience, and improve the efficiency of assessment processes.
[