FOR DEMO WHATSAPP US ON +2348061676089
SEND US A MESSAGE ON FACEBOOK FOR MORE INFO and DEMO
https://facebook.com/websaro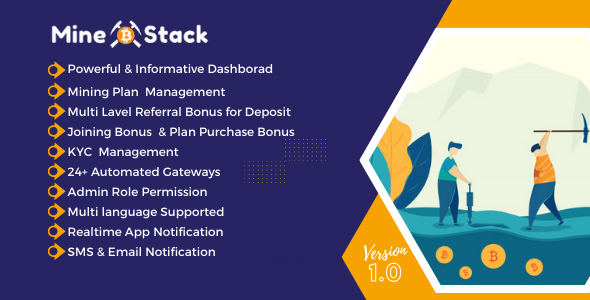 MineStack is a comprehensive cloud mining platform that enables users to easily and efficiently mine cryptocurrencies from the comfort of their devices. Whether you are a beginner or an experienced miner, MineStack offers a user-friendly interface, and automated processes to ensure a smooth mining experience.
Features:
1. User-friendly dashboard: MineStack offers an intuitive dashboard that is easy to use and navigate. Here users can monitor their mining activities, track their earnings and manage their account settings.
2. Multiple cryptocurrencies: MineStack supports mining for various cryptocurrencies including Bitcoin, Ethereum, LITECOIN, Ripple, and many others. Users can choose which cryptocurrencies they want to mine based on their preference.
3. Mining Pool: MineStack offers a pool option that facilitates mining with others. This feature allows users to combine their computing power to increase the chances of finding a block and earn higher rewards.
4. Advanced Security Measures: With MineStack, safety comes first. The platform is secure, and it employs encryption and other advanced security measures to ensure the protection of users' data and accounts.
5. Extensive Reporting: MineStack provides detailed and real-time reports of mining activities, mining pool contributions, earnings, and other key metrics.
6. 24/7 Support: MineStack offers round-the-clock customer support for its users to assist with any issues they may encounter.
Whether you are new to mining, or an experienced miner, MineStack offers the tools and resources you need to efficiently mine cryptocurrencies and earn rewards. Start mining today with MineStack.
[