FOR DEMO WHATSAPP US ON +2348061676089
SEND US A MESSAGE ON FACEBOOK FOR MORE INFO and DEMO
https://facebook.com/websaro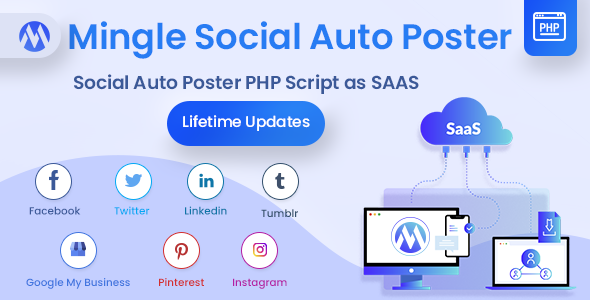 Mingle SAAS is a powerful Social Auto Poster and Scheduler PHP Script that allows you to easily manage and schedule all your social media accounts from one platform. With Mingle SAAS, you can automate your social media activities and save valuable time that can be invested in growing your business.
Features:
1. Easy Social Media Account Setup – Mingle SAAS makes it easy to add and setup your social media accounts. You can connect all your Facebook, Twitter, Instagram, LinkedIn, Pinterest, and many more accounts quickly and easily.
2. Smart Content Suggestions – Mingle SAAS comes with a built-in content suggestion feature which suggests high-quality content from different topics that you can share on your social media accounts.
3. Schedule Your Posts – You can easily schedule your social media posts on Mingle SAAS. You can choose the date and time for each post or set up a recurring schedule to post multiple times per day, week, or month.
4. Bulk Upload – With bulk upload, you can save more time by uploading multiple posts at once. You can also manage the dates and times of these posts.
5. Post Analytics – Mingle SAAS provides a comprehensive analytics dashboard that will help you understand how your social media posts are performing. You can track likes, comments, shares, and more.
6. Multiple Users – You can add multiple users to the platform and assign specific social media accounts, roles, and permissions.
7. Integration with Google Analytics – With the integration of Google Analytics, you can track the clicks, visits, and engagements on your social media posts.
8. Customizable Templates – Mingle SAAS comes with customizable templates that enable you to create unique post styles for your social media accounts.
9. Automatic Posting – You don't have to post each time manually as the automatic posting feature allows you to set up a continuous stream of automated posting.
10. Support and Documentation – Mingle SAAS comes with comprehensive documentation and responsive support to assist you in every aspect of the platform.
Mingle SAAS is the perfect solution for anyone looking to automate their social media activities and grow their online presence without having to spend countless hours managing multiple social media accounts. Try it today and take the first step towards a more efficient and successful online presence.
[