FOR DEMO WHATSAPP US ON +2348061676089
SEND US A MESSAGE ON FACEBOOK FOR MORE INFO and DEMO
https://facebook.com/websaro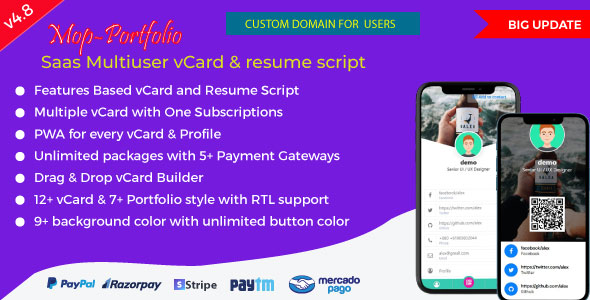 Mop – SaaS vCard / Portfolio / Resume / Digital Business card is an impressive solution that lets users create and manage their digital business card, portfolio, vCard, or resume with ease. Designed for professionals, freelancers, entrepreneurs, and job seekers, this SaaS-based solution allows users to showcase their skills, accomplishments, and personality in an interactive and engaging way.
Features:
1. Modern & responsive design: The user interface of Mop is modern and visually appealing, and it is also fully responsive, ensuring that it looks great on all devices.
2. Customizable templates: Mop offers a range of customizable templates, making it easy to create a personalized digital business card, portfolio, resume, or vCard.
3. Unlimited pages: Users can create unlimited pages to showcase their work, skills, certifications, education, contact details, and more.
4. Analytics: Mop offers detailed analytics to help users track their profile views, click-through rates, and other important metrics.
5. GDPR compliant: The solution is GDPR compliant, ensuring that users' data is safe and secure.
6. Social media integration: Mop integrates with social media platforms, allowing users to connect with potential clients or employers.
7. Custom domain: With Mop, users can use their custom domain name to have a personalized web address for their digital business card.
8. Integration with Google Analytics: This solution also integrates with Google Analytics to provide users with insights into their website traffic.
In summary, Mop – SaaS vCard / Portfolio / Resume / Digital Business card is a comprehensive solution that offers users numerous benefits, allowing them to create a professional digital presence quickly and easily. With its customizable templates, vast range of features, and affordable pricing, it's an ideal solution for anyone looking to stand out in a crowded professional market.
[