FOR DEMO WHATSAPP US ON +2348061676089
SEND US A MESSAGE ON FACEBOOK FOR MORE INFO and DEMO
https://facebook.com/websaro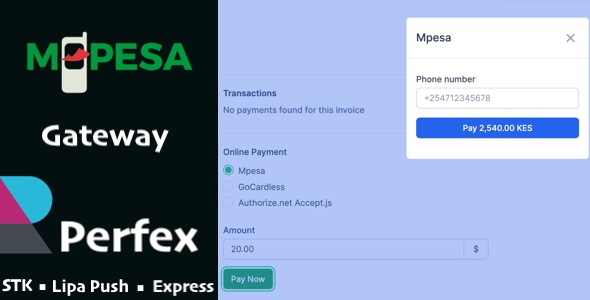 Mpesa Gateway – Perfex CRM module is a powerful fintech tool that enables Perfex CRM users to integrate M-Pesa, one of the most popular mobile payment solutions in Africa, with their CRM system. With this module, you can accept payments from clients directly into your M-Pesa account without any hassle.
Here are some of the key features of this module:
1. Easy Integration: The module is easy to integrate into your Perfex CRM system, enabling you to accept M-Pesa payments seamlessly.
2. Safe and Secure Transactions: The Mpesa Gateway uses secure payment processing systems, ensuring that transactions are safe and secure.
3. Real-Time Payment Notification: You and your clients receive instant notifications the moment a payment is received, providing real-time transparency in your transactions.
4. Optimized for Mobile: Mpesa Gateway is designed with mobile users in mind, making it easier for clients to make payments using their mobile devices.
5. Automated Billing: With this module, you can set up automated billing and reminders, reducing the burden of manual payments.
6. Accurate Reporting: Keep track of all Mpesa transactions by generating accurate financial reports directly from your Perfex CRM system.
7. Easy Set-Up: The Mpesa Gateway module is easy to set up and configure, with a user-friendly interface that requires no technical expertise.
In summary, Mpesa Gateway – Perfex CRM module helps businesses in Africa to expand their payment options with a safe and efficient payment solution. With this module, Perfex CRM users can accept Mpesa payments, automate billing, generate financial reports, and enjoy real-time notifications. Get your copy now and start accepting Mpesa payments like a pro!
[