FOR DEMO WHATSAPP US ON +2348061676089
SEND US A MESSAGE ON FACEBOOK FOR MORE INFO and DEMO
https://facebook.com/websaro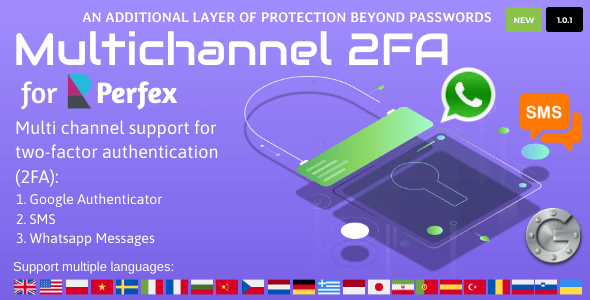 Multichannel Two Factor Authentication for Perfex CRM is a powerful security plugin that adds an extra layer of protection to your Perfex CRM, making it nearly impossible for hackers to access your CRM data. This plugin facilitates two-factor authentication using multiple channels such as SMS, Voice Call and Email, giving users the convenience to choose their preferred method of authentication.
Listed below are some of the key features of Multichannel Two Factor Authentication for Perfex CRM:
1. Multi-channel Authentication: The plugin supports multiple channels for authentication, including SMS, Voice Call and Email. Users can choose their preferred way to authenticate.
2. Easy Setup: The plugin is easy to set up and integrate with Perfex CRM. It comes with detailed documentation that guides users step-by-step through the installation process.
3. Custom TOTP Codes: Customers can create their customized TOTP (Time-based One-Time Password) codes for efficient OTP code generation.
4. Security Reporting: The plugin provides detailed reports to the CRM administrator on user's authentication progress.
5. Integrated Portal Page: The plugin has integrated an easy-to-use portal page for users, providing information about their authentication status along with usage instructions.
6. Customizable Templates: Admins can create their templates for the SMS, Email, and Voice Call messages to match their business branding.
7. Customized sender IDs: It facilitates a feature to create your own sender ID, which is used by the plugin to send SMS alerts.
In conclusion, Multichannel Two Factor Authentication for Perfex CRM is a must-have security plugin, providing an added layer of protection to your CRM data. By making it nearly impossible for unauthorized parties to gain access, it helps to ensure the security and integrity of your sensitive data. Get this plugin today and secure your valuable information!
[