FOR DEMO WHATSAPP US ON +2348061676089
SEND US A MESSAGE ON FACEBOOK FOR MORE INFO and DEMO
https://facebook.com/websaro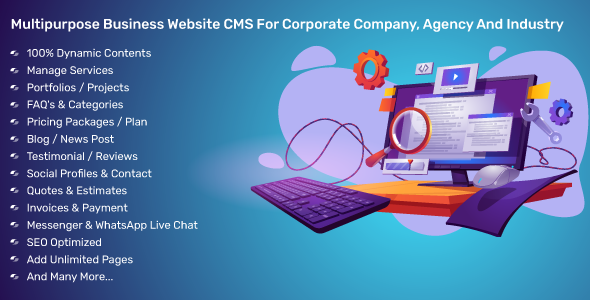 Multipurpose Business Website CMS is an ideal solution for corporate companies, agencies, and industries to manage their website with ease. This CMS is designed to cater to the needs of various industries and businesses, providing a feature-rich, flexible, and customizable platform to build, manage, and scale their digital presence.
Some of the key features of the Multipurpose Business Website CMS are:
1. Intuitive Admin Panel: The CMS has a user-friendly and intuitive admin panel that allows you to manage your website easily. You can access and modify different sections of your website, such as content, design, and settings, all from one centralized panel.
2. Customizable Templates: The CMS comes packed with multiple pre-designed templates for different industries and businesses. With the drag-and-drop editor, you can customize these templates to fit your brand's style, layout, and color scheme.
3. SEO Optimization: The CMS is designed to be SEO-friendly with meta tags, URL, sitemap, and other optimization features. You can optimize your pages and content for search engines to improve the visibility and ranking of your website.
4. Responsive Design: The CMS is built with a responsive design that makes your website mobile-friendly and accessible on different devices and screen sizes. This feature ensures that your website looks great and functions smoothly on all platforms, improving user engagement and retention.
5. Social Media Integration: The CMS has social media integration features that allow you to connect your website with your social media profiles and channels. You can add social media icons, sharing buttons, and feeds to your website to increase your social media presence and engagement.
6. Multi-Language Support: The CMS supports multiple languages, allowing you to create a multilingual website that caters to a global audience. You can add or modify languages based on your audience, content, and targeting needs.
7. E-commerce Integration: The CMS can be integrated with e-commerce platforms such as WooCommerce, Shopify, and others. You can create a fully functional online store, manage products, orders, payments, and shipping, all from one place.
Multipurpose Business Website CMS is a powerful and versatile platform that comes with all the necessary tools and features to create a professional website for your business. Whether you're running a small startup or a large corporation, this CMS can help you streamline your website management and boost your online presence.
[