FOR DEMO WHATSAPP US ON +2348061676089
SEND US A MESSAGE ON FACEBOOK FOR MORE INFO and DEMO
https://facebook.com/websaro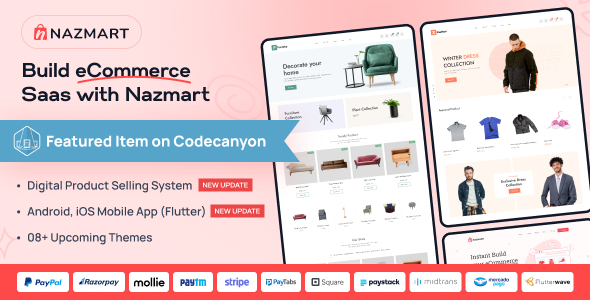 Nazmart is a modern Multi-Tenancy eCommerce Platform that offers a comprehensive set of features for building online stores. With a SAAS approach, the platform is perfect for those who want to build a scalable eCommerce business without worrying about managing servers or infrastructure. Nazmart is designed to be easy to use, reliable, and customizable to meet the needs of any type of business.
Here are some of the key features:
1. Multi-Tenancy: Nazmart allows you to manage multiple stores from a single dashboard. With this feature, you can easily create separate storefronts for different brands, product categories, and geographical locations.
2. Customizable: The platform is highly customizable, allowing you to tailor it to your specific needs and branding. You can customize everything from the design of the storefront to the features and functionality.
3. Responsive: Nazmart offers responsive design, ensuring that your storefront looks great across all devices, including smartphones, tablets, and desktops.
4. Payment Gateways: The platform comes with multiple payment gateway integrations, including PayPal, Stripe, and Braintree.
5. Shipping Management: The platform offers shipping management tools, including integration with major shipping carriers like USPS, FedEx, and UPS.
6. Product Management: Nazmart allows you to manage your products, pricing, and inventory with ease. You can easily add, edit, or delete products, set discounts and coupon codes, and manage inventory.
7. Analytics and Reporting: The platform offers analytics and reporting tools, giving you insights into your store's performance. You can track sales, revenue, traffic, and other key metrics.
8. Security: Nazmart offers secure payment processing, encryption of sensitive data, and protection against fraud and hacking.
Overall, Nazmart is an all-in-one solution for building and managing your eCommerce business. With its powerful features and ease of use, it's the perfect choice for businesses of all sizes looking to launch an online store quickly and easily.
[