FOR DEMO WHATSAPP US ON +2348061676089
SEND US A MESSAGE ON FACEBOOK FOR MORE INFO and DEMO
https://facebook.com/websaro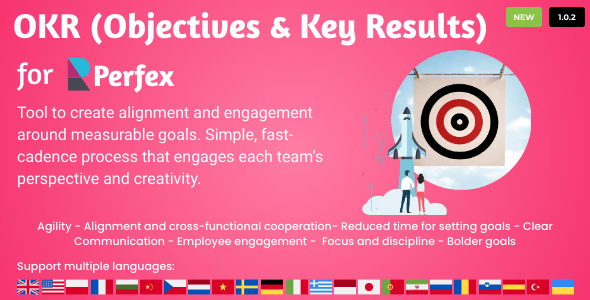 Introducing OKRs – Objectives and Key Results for Perfex CRM, a powerful and easy-to-use add-on that helps you manage your business goals and track progress with precision. Whether you're a startup or an established organization, achieving your objectives requires focus, organization, and consistent efforts. This add-on streamlines your goal-setting process and translates your objectives into measurable results to help you stay on track and achieve success.
Key Features:
1. Simple and Intuitive: The add-on is intuitively designed to provide a user-friendly interface that simplifies the OKR management process. Setting and tracking goals has never been easier.
2. Goal Setting and Management: Define and track company-wide or team-specific objectives, and manage them on a single platform. Assign team members and deadlines to each objective.
3. Key Results Tracking: Set Key Results (metrics) to track your goal progress automatically. KRs act as measurable indicators that let you know how close you are to achieving your objectives.
4. Customizable Dashboards: Monitor your objectives and their progress on the customizable dashboard. Analyze, share, and export data for better decision-making.
5. Insights and Reporting: Get real-time insights and track the progress of your objectives with detailed reports. Measure team performance, identify areas of improvement and implement necessary changes.
6. Collaboration and Transparency: Foster collaboration and transparency by giving each team member access to the progress of the objective. Track team performance in real-time and identify the contributors to your team's success.
In conclusion, OKRs-Objectives and Key Results for Perfex CRM simplifies and streamlines your goal-setting process and empowers you to track progress in a organized manner. This add-on is a must-have for any business looking to improve its performance and achieve its goals with ease.
[