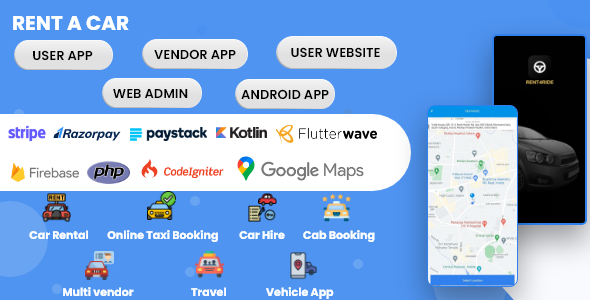 Looking for a robust and efficient online taxi booking system? Look no further than our Online Taxi Booking System! This all-inclusive car rental, car hire, cab booking, and multi-vendor travel app is the perfect solution for anyone looking to simplify and streamline their transportation needs.
Our Online Taxi Booking System is designed to be flexible and customizable, offering a range of features and tools to help you create and manage your own taxi service. With user-friendly interfaces and intuitive navigation, you can easily set up your own fleet of vehicles, manage bookings and payments, and track the status of your drivers and customers in real-time.
Whether you're looking to launch a new taxi service, or simply want to streamline your existing operations, our Online Taxi Booking System is the perfect solution. So why wait? Download it today and start taking your business to the next level!