FOR DEMO WHATSAPP US ON +2348061676089
SEND US A MESSAGE ON FACEBOOK FOR MORE INFO and DEMO
https://facebook.com/websaro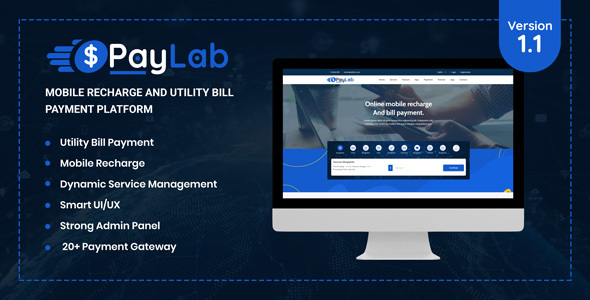 Looking for an easy and fast way to recharge your mobile phone or pay your utility bills directly from your mobile phone? Introducing PayLab – a mobile recharge and utility bill payment platform that lets you easily recharge your mobile phone and pay your bills using your phone.
With PayLab, you can top up your mobile phone balance and pay your bills in a matter of seconds. All you need is a compatible mobile phone and an active internet connection, and you're ready to start recharging and paying your bills.
Features:
– Recharge mobile phones instantly: With PayLab, you can recharge your mobile phone instantly without having to go outside or wait in line at a shop. The app supports all major carriers and mobile networks, so you can easily top up your phone no matter the network.
– Pay utility bills easily: Forget about the hassle of going to a payment center to pay your utility bills. With PayLab, you can easily pay bills for electricity, gas, water, and other utilities from the comfort of your home.
– Multiple payment options: With PayLab, you have the flexibility to pay using different payment options. You can use your credit card, e-wallet, or any other payment method that suits your needs.
– Safe and secure: PayLab uses the latest and most secure technology to protect your personal information and payment details. All your transactions are encrypted and securely processed, so you can be sure that you're making safe payments.
– Easy navigation: The app has an intuitive and user-friendly interface that makes it easy to use. You can navigate and easily find the feature you want to use.
– Easy account management: With PayLab, you can easily manage your account, view transaction history, and update personal details.
In summary, PayLab is the perfect app for anyone looking for a fast, easy, and secure way to recharge their mobile phones and pay their utility bills. Download it today and start recharging and paying bills with ease.
[