FOR DEMO WHATSAPP US ON +2348061676089
SEND US A MESSAGE ON FACEBOOK FOR MORE INFO and DEMO
https://facebook.com/websaro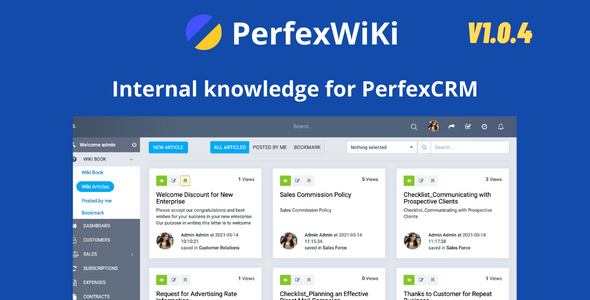 PerfexWiki is the perfect add-on to enhance your team's knowledge management within the Perfex CRM platform. It allows users to create and organize internal documentation to keep everyone on the same page.
Features:
1. User-Friendly Interface: PerfexWiki features an intuitive user interface that makes it easy for users to create and manage documentation.
2. Secure Access: Only authorized users can access PerfexWiki, ensuring that sensitive information stays protected.
3. Search Functionality: Users can quickly search for specific documentation using keywords or tags.
4. Collaboration Tools: Teams can collaborate on documentation, with the ability to leave comments and track changes.
5. Customizable Templates: Customizable templates make it easy to create professional-looking documentation with minimal effort.
6. Version Control: PerfexWiki's version control feature allows users to keep track of changes made to documentation over time.
7. Easy Integration: Integrating PerfexWiki with your existing Perfex CRM platform is a breeze.
8. Comprehensive Reporting: PerfexWiki provides comprehensive reporting, giving you insights into who is accessing and using your documentation.
PerfexWiki is the perfect solution for companies looking to streamline their internal knowledge management within Perfex CRM. Try it out today and see the benefits of having all your documentation in one place.
[