FOR DEMO WHATSAPP US ON +2348061676089
SEND US A MESSAGE ON FACEBOOK FOR MORE INFO and DEMO
https://facebook.com/websaro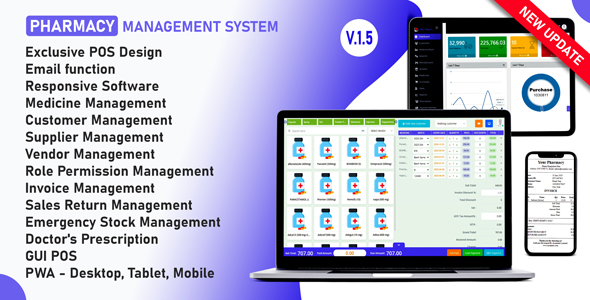 Are you tired of managing your pharmacy manually? Make your work easier with Pharmacy Management Software – PWA.
This software is a powerful tool for managing and tracking your pharmacy operations. With easy-to-use features, you can manage your inventory, sell medicines, and track supplies, all in one place.
Some of the features of Pharmacy Management Software – PWA include:
1. Real-time inventory management: You can track your inventory in real-time and ensure that you never run out of stock.
2. Barcode scanning: You can easily scan barcodes on medicines to add them to your inventory and sell them to customers.
3. Multilingual support: The software comes with multilingual support, so you and your customers can use it in their preferred language.
4. User-friendly interface: The software is designed to be user-friendly and easy to use, so you can complete tasks quickly and efficiently.
5. Automatic alerts: You can set up automatic alerts for low stock, expired medicines, and more, so you never miss an important task.
6. Sales reporting: You can generate reports on your sales, profit, and other metrics, and use this data to make informed business decisions.
7. Mobile-friendly: The software is a Progressive Web App (PWA), so you can use it on any device, including smartphones and tablets.
Invest in Pharmacy Management Software – PWA, and improve the way you manage your pharmacy.
[