FOR DEMO WHATSAPP US ON +2348061676089
SEND US A MESSAGE ON FACEBOOK FOR MORE INFO and DEMO
https://facebook.com/websaro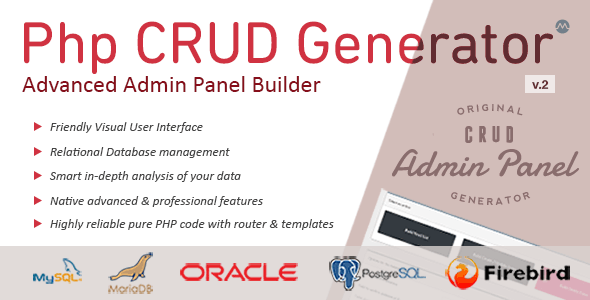 Introduction:
PHP CRUD Generator is a powerful web application that allows developers to create web applications quickly and easily. With its intuitive user interface and robust feature set, it's an ideal tool for both novice and experienced developers alike. Whether you're building a small business application or a large-scale enterprise system, PHP CRUD Generator has everything you need to get the job done.
Key Features:
Here are some of the key features of PHP CRUD Generator that make it an invaluable tool for web development:
1. Easy to Use:
PHP CRUD Generator is designed to be easy to use, even if you're new to web development. Its intuitive user interface makes it easy to create new applications, modify existing ones, and manage your data with ease.
2. Customizable:
PHP CRUD Generator is fully customizable, allowing you to tailor it to your specific needs. You can choose from a wide range of templates, themes, and layouts, and customize them to match your branding and design requirements.
3. Responsive Design:
PHP CRUD Generator is designed to be fully responsive, meaning your applications will look great on any device. Whether your users are accessing your application on a desktop, tablet, or mobile device, they'll have a seamless experience.
4. Built-In Security:
PHP CRUD Generator comes with a range of built-in security features to keep your applications safe and secure. You can set up user roles and permissions, protect your data with encryption, and more.
5. Database Support:
PHP CRUD Generator supports a wide range of databases, including MySQL, SQLite, PostgreSQL, and Oracle. This makes it easy to integrate your applications with your existing database infrastructure.
6. Code Generation:
PHP CRUD Generator generates all the code for you, saving you time and effort. You'll be able to get your applications up and running faster than ever before, without having to write a single line of code.
Conclusion:
PHP CRUD Generator is an essential tool for any web developer looking to build powerful, scalable applications quickly and easily. With its intuitive user interface, robust feature set, and customizability, it's an invaluable asset for businesses of all sizes. Whether you're a novice or an experienced developer, PHP CRUD Generator has everything you need to build the perfect application in no time.
[