FOR DEMO WHATSAPP US ON +2348061676089
SEND US A MESSAGE ON FACEBOOK FOR MORE INFO and DEMO
https://facebook.com/websaro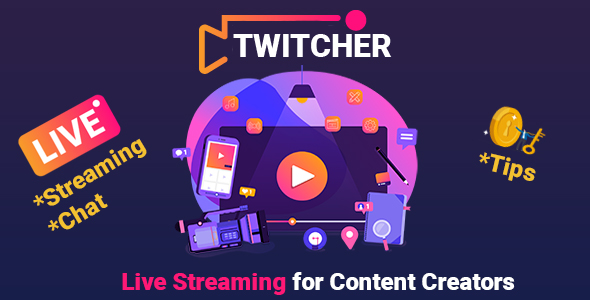 PHP Twitcher is the ultimate SaaS platform for content creators who want to live stream their videos with ease. It is designed to provide a seamless and powerful platform for anyone, regardless of their technical skills, to stream videos that will keep their audience engaged. This live video streaming platform is loaded with features that make it easy for creators to connect with their audience and share their content in real-time.
Features of PHP Twitcher
1. User- Friendly Dashboard: The platform offers a user-friendly dashboard that enables users to manage their streams, channel, and subscription data with ease.
2. Live Streaming: PHP Twitcher allows content creators to live stream their videos in real-time to reach their audience.
3. Full HD Quality: Users can enjoy full HD quality video streaming.
4. Monetization: Users can monetize their content via ads and subscriptions.
5. Chat Function: PHP Twitcher has a chat function that allows users to engage with their audience in real-time.
6. Mobile Compatibility: It is compatible with mobile devices, which ensures easy access to video streaming anywhere, anytime.
7. Secure and Robust: The platform is secure and robust, ensuring maximum performance and reliability.
8. Analytics: PHP Twitcher provides actionable insights into user engagement, view count, performance metrics, and more.
9. Easy Integration: PHP Twitcher is designed to integrate seamlessly with other platforms.
10. Social Sharing: PHP Twitcher allows content creators to share their stream on social media platforms.
In conclusion, with PHP Twitcher, content creators can easily connect with their audience, monetize their content, and grow their audience while providing an unparalleled video streaming experience. This SaaS platform is the perfect solution for anyone looking for an easy and powerful way to stream their content in real-time.
[