FOR DEMO WHATSAPP US ON +2348061676089
SEND US A MESSAGE ON FACEBOOK FOR MORE INFO and DEMO
https://facebook.com/websaro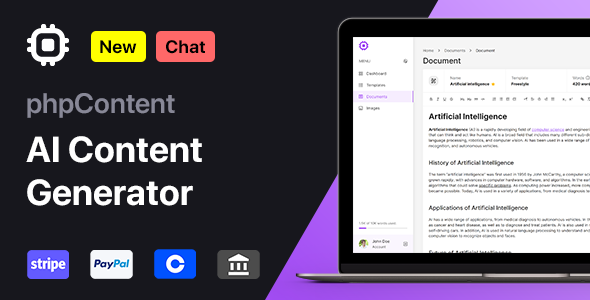 Are you tired of spending countless hours brainstorming ideas and creating content for your website or social media platforms? Look no further than phpContent – the ultimate AI content generator platform!
With phpContent, you'll have access to a powerful and intuitive SaaS platform that will make creating high-quality content a breeze. Our AI algorithms will analyze your brand and create authentic, engaging content that speaks directly to your audience. Plus, you'll be able to automate your content creation process and free up more time to focus on other important tasks.
phpContent's robust feature set includes:
– Easy-to-use editor: Create and edit content within the platform with our simple, intuitive editor.
– Customizable templates: Choose from a variety of customizable templates to make your content unique to your brand.
– AI-generated content: Our AI algorithms analyze your brand and create high-quality, engaging content in seconds.
– Multi-language support: Generate content in multiple languages to reach new audiences and expand your brand's reach.
– SEO optimization: Our platform includes built-in SEO optimization to ensure that your content is easily discoverable to search engines.
– Social media scheduling: Schedule your content to be published directly to your social media profiles in just a few clicks.
– User management: Add team members and manage their access levels to the platform.
– Analytics and reporting: Track your content's performance and optimize your strategy with our detailed analytics and reporting features.
Don't waste any more time struggling to create content – sign up for phpContent today and let our AI do the heavy lifting for you!
[