FOR DEMO WHATSAPP US ON +2348061676089
SEND US A MESSAGE ON FACEBOOK FOR MORE INFO and DEMO
https://facebook.com/websaro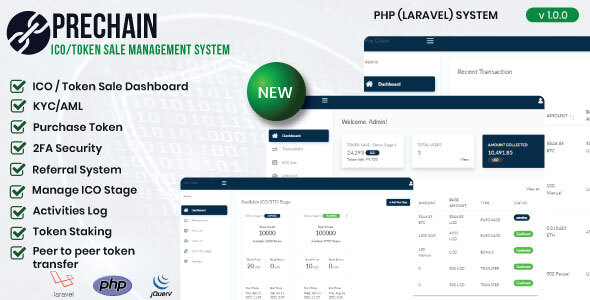 Prechain is a reliable and efficient ICO / token sale management system that allows you to launch and manage your ICO campaign with ease. From creating your ICO website to accepting payments and managing KYC/AML compliance, Prechain provides a comprehensive solution that simplifies the process. The system is designed to be user-friendly and customizable, making it easy to set up and use regardless of your technical expertise.
Here are some of the key features of Prechain:
1. ICO Website Builder: Prechain includes a powerful website builder that allows you to create a professional-looking website for your ICO campaign in just a few clicks. With a range of customizable templates and built-in design tools, you can create a website that is unique to your brand.
2. Token Creation: Prechain provides a simple and intuitive interface for creating your own tokens. You can customize token details such as name, symbol, total supply, decimals, and more.
3. Payment Gateway Integration: Prechain integrates with popular payment gateways to enable automated payment processing for your ICO campaign. You can accept payments in cryptocurrency or traditional fiat currencies.
4. KYC/AML Compliance: Prechain offers a range of tools to manage your KYC/AML requirements. You can verify the identity of your investors, check their accreditation status, and maintain compliance with regulatory requirements.
5. Investor Dashboard: Prechain provides an investor dashboard that allows your investors to view their account details, including their token balance and transaction history.
6. Automated Token Distribution: Prechain automates the token distribution process, allowing you to issue tokens to investors automatically on a predetermined schedule.
7. Whitelisting and Blacklisting: Prechain gives you the ability to whitelist or blacklist specific investors based on their credentials or behavior.
8. Bounty Program Management: Prechain includes a bounty program management feature that allows you to incentivize marketing and promotional activities.
9. Multilingual Support: Prechain supports multiple languages, making it accessible to a global audience.
With Prechain, you can launch your ICO campaign quickly and efficiently, while ensuring compliance with regulatory requirements. Its user-friendly interface and customizable features make it an ideal solution for startups and established companies looking to raise funds through ICOs.
[