FOR DEMO WHATSAPP US ON +2348061676089
SEND US A MESSAGE ON FACEBOOK FOR MORE INFO and DEMO
https://facebook.com/websaro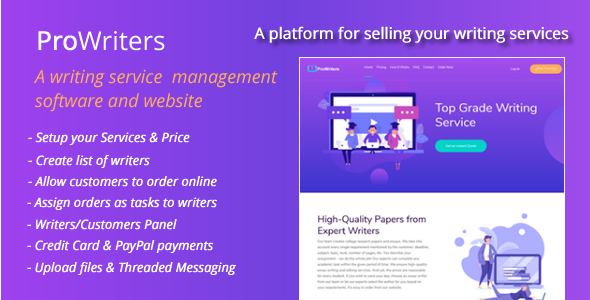 ProWriters is a powerful online platform that allows you to sell your writing services online. With ProWriters, you can create a profile, showcase your portfolio, and offer various writing packages to your customers.
ProWriters offers a wide range of features for both writers and customers, making it an attractive choice for anyone who wants to sell or purchase writing services online. Here's a list of some of the key features:
For Writers:
1. Multiple service packages: You can create multiple service packages with different pricing and offerings, depending on your skills and experience.
2. Portfolio showcase: You can showcase your best works through an interactive portfolio, making it easier for customers to get an idea of your writing style and skills.
3. Customizable profile: You can customize your profile page with your photo, bio, and other relevant information that showcases your expertise in writing.
4. Secure payment gateway: ProWriters offers a secure payment gateway to ensure transactions between writers and customers are safe and secure.
5. Easy communication: You can communicate with your clients seamlessly via the messaging system within the platform, making it easier to manage writing projects and deliverables.
For Customers:
1. Wide range of services: You can choose from a vast selection of writing services, such as blog posts, articles, product descriptions, and much more.
2. High-quality writers: ProWriters only accepts applications from skilled writers to ensure customers receive high-quality writing services.
3. Hassle-free ordering: Ordering a writing service is easy and straightforward on ProWriters. You can choose a package, provide instructions, and submit payment.
4. Timely delivery: ProWriters helps ensure timely delivery of writing projects so that you can meet your deadlines on time.
ProWriters offers a comprehensive solution for writers and customers looking to sell and purchase writing services online. With all of the above features, it's easy to get started creating an income stream from your writing skills.
[