FOR DEMO WHATSAPP US ON +2348061676089
SEND US A MESSAGE ON FACEBOOK FOR MORE INFO and DEMO
https://facebook.com/websaro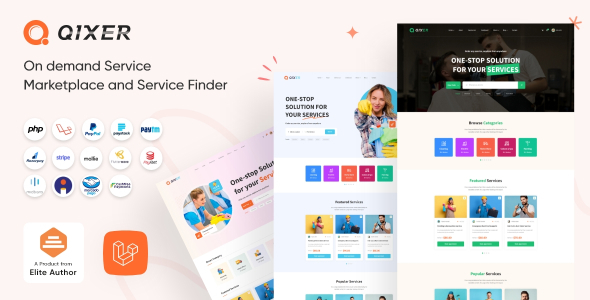 Qixer is a powerful and feature-packed multi-vendor on-demand service marketplace and service finder platform that allows users to connect with various service providers. This highly-scalable platform is perfect for any individual or business looking to build their own service marketplace and offer numerous services to clients all in one place.
Some of the key features of Qixer include:
1. Multi-vendor marketplace: Qixer allows for unlimited service providers to join, create their own profiles, and offer their services to clients.
2. Service finder: Clients can browse through various services offered by providers and easily search and filter options to find the right service provider.
3. Booking and scheduling: The platform includes a robust booking system, allowing clients to book services in advance and schedule appointments with service providers.
4. Ratings and reviews: Clients can review and rate service providers to help other clients find the best service providers.
5. Commission management: The platform includes an easy-to-use commission management system, which allows you to charge fees for each transaction and manage payments between service providers and clients.
6. Advanced reporting: Detailed reports help you stay on top of the platform's activity and insight into your sales, revenue, and other important metrics.
7. Mobile-friendly: Qixer is fully-responsive, mobile-friendly, and works perfectly across all devices.
8. Customizable: The platform is highly-configurable and fully-customizable, allowing you to tailor it to your specific needs and preferences.
9. Multiple payment gateways: Qixer includes multiple payment gateway integrations, offering maximum flexibility to clients and service providers.
In summary, Qixer is a comprehensive, powerful, and highly-configurable multi-vendor on-demand service marketplace and service finder platform. Whether you're looking to start your own service marketplace or connect with various service providers for your needs, Qixer has everything you need to get started and succeed.
[