FOR DEMO WHATSAPP US ON +2348061676089
SEND US A MESSAGE ON FACEBOOK FOR MORE INFO and DEMO
https://facebook.com/websaro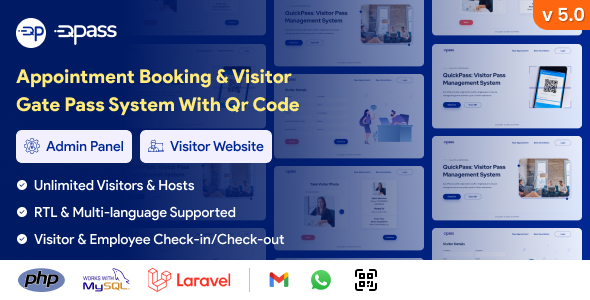 QuickPass is a cutting-edge appointment booking and visitor gate pass system that simplifies the process of managing appointments, visitor registration, and access control. With its intuitive interface and advanced features, QuickPass is the perfect solution for businesses of all sizes.
Key Features:
1. Advanced Appointment Booking System: Quickly and easily schedule appointments for employees and visitors while ensuring availability of resources and facilities.
2. Visitor Registration: Quickly register visitors and generate visitor gate passes with customized information.
3. QR Code Scanning: Verify visitor information and approve access by scanning QR codes.
4. Self Check-in: Visitors can self-check-in and print their own visitor gate passes, which reduces waiting time and increases efficiency.
5. Access Control: Control entry and exit to your premises by granting or denying access to visitors based on their appointments.
6. Security Features: Monitor visitor movements and record data for reporting and auditing purposes.
7. Customizable Design: Tailor the design of gate passes and forms to reflect your organization's branding and aesthetics.
8. Multi-User Access: Provide access to multiple users from different departments or branches.
9. Notifications: Send automated notifications to visitors and employees with appointment reminders, changes, and cancellations.
10. Dashboard: Track visitor statistics, check-in details, and appointment history with the comprehensive dashboard.
QuickPass is a feature-rich and reliable visitor management system that streamlines appointment booking, visitor registration, and access control for businesses in different industries. It is easy to use, highly customizable, and effective in enhancing security and productivity. Get QuickPass now and experience the benefits of a modern visitor management system.
[