FOR DEMO WHATSAPP US ON +2348061676089
SEND US A MESSAGE ON FACEBOOK FOR MORE INFO and DEMO
https://facebook.com/websaro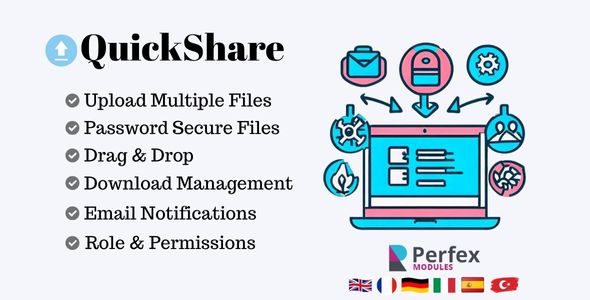 QuickShare is a powerful file transfer and sharing module that seamlessly integrates with Perfex CRM. With this module, you can easily share files and documents with your team members and clients, saving a lot of time and improving your overall productivity.
Features:
1. Easy File Sharing: QuickShare allows you to share files of any size with your team members and clients. You can either share a single file or multiple files at once.
2. Secure File Transfer: All files are transferred using secure encryption, ensuring that your data remains safe and secure while being shared.
3. Customizable Access: You can customize access levels for each user, allowing them to either edit or view files depending on your preferences.
4. User-Friendly Interface: The interface of QuickShare is user-friendly, making it easy for team members and clients to access and share files.
5. Customizable Notifications: You can customize notifications to instantly notify team members and clients when new files are available.
6. Easy Integration: QuickShare module integrates seamlessly with your Perfex CRM to keep all files in one place, improving your workflow and efficiency.
7. File Version Control: You can maintain a version control system for every file, ensuring that everyone has access to the latest version.
QuickShare is a valuable addition to your digital arsenal, improving the way you collaborate with your team members and clients. Try it out for yourself today and experience better and faster file sharing.
[