FOR DEMO WHATSAPP US ON +2348061676089
SEND US A MESSAGE ON FACEBOOK FOR MORE INFO and DEMO
https://facebook.com/websaro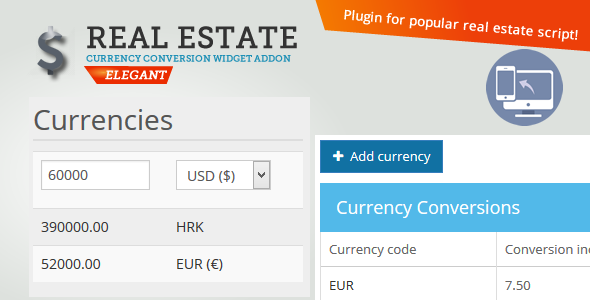 Real Estate Currency Conversion Widget is a powerful tool that allows real estate website owners to provide instant currency conversion facility to their visitors. With this widget, visitors can dynamically convert property prices from one currency to another, allowing them to make informed decisions when it comes to buying or renting property.
Some of the features of Real Estate Currency Conversion Widget include:
1. Easy Integration: The widget can be easily integrated into any real estate website without any complex setup procedures.
2. Multiple Currencies: The widget supports multiple currencies, making it easy for visitors to convert prices from one currency to another.
3. Dynamic Conversion Rate: The widget uses real-time currency conversion rates to provide accurate and up-to-date conversion results.
4. Responsive Design: The widget is designed to be fully responsive, ensuring that it adapts seamlessly to any device size or resolution.
5. Customizable Design: The widget's design can be fully customized to match the branding and design of your real estate website.
6. User-Friendly Interface: The widget has a user-friendly interface that is easy to use and understand, providing visitors with a seamless conversion experience.
Overall, Real Estate Currency Conversion Widget is a must-have tool for any real estate website looking to provide their visitors with an enhanced experience when it comes to currency conversion. With its powerful features and seamless integration, the widget is sure to help increase conversions and drive more sales.
[