FOR DEMO WHATSAPP US ON +2348061676089
SEND US A MESSAGE ON FACEBOOK FOR MORE INFO and DEMO
https://facebook.com/websaro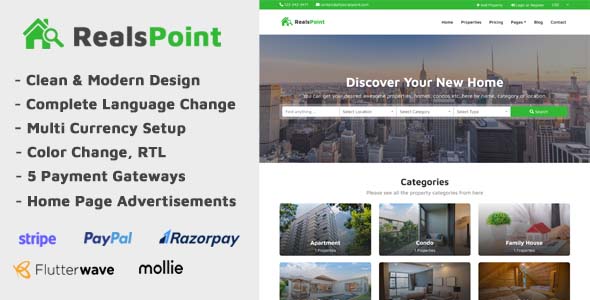 RealsPoint is a robust online platform for real estate agents to create and manage their property listings. With its user-friendly interface and intuitive design, RealsPoint allows you to easily showcase your properties and grow your client base.
Here are some of the key features of RealsPoint:
1. Advanced search functionality: RealsPoint provides advanced search features that allow users to filter properties based on specific criteria such as location, price range, property type, and more.
2. Property management: The platform enables you to create and manage your property listings from one central location. You can add descriptions, photos, pricing, and more to each listing.
3. Maps integration: RealsPoint utilizes maps integration to provide a visual representation of each of your properties' location.
4. Social media integration: You can share each property listing on various social media platforms and engage with potential clients.
5. User management: You can manage your client base by keeping their contact information, inquiries, and other vital details.
6. Responsive design: The platform is responsive and can be easily viewed on different devices, allowing you to reach a wider audience and grow your leads.
7. Payment integrations: The platform also offers payment integrations, enabling you to automate payment processing.
In conclusion, RealsPoint is a complete real estate platform designed to help boost your property listings, increase lead generations, and help you close more deals with ease.
[