FOR DEMO WHATSAPP US ON +2348061676089
SEND US A MESSAGE ON FACEBOOK FOR MORE INFO and DEMO
https://facebook.com/websaro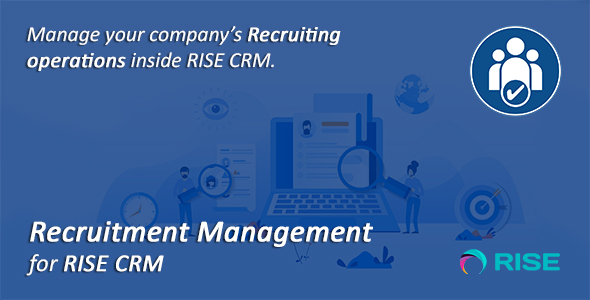 Introducing Recruitment Management, a powerful add-on for RISE CRM, designed to simplify your recruitment process and improve your hiring efficiency. This add-on is perfect for businesses, agencies, and recruiters who want to streamline the recruitment process, track applicant progress, and improve communication with candidates.
With Recruitment Management, you can easily manage and track all of your recruitment activities in one place. Here are some of the key features:
1. Create and manage job openings – Create job openings with all the necessary details and custom fields for each position, and easily manage all your open positions in one place.
2. Track applicants – Keep track of all the applications you receive, and easily filter and sort them to find the best candidates.
3. Communicate with candidates – Connect with candidates directly from the platform and keep them updated with automated emails.
4. Schedule interviews – Schedule and manage interviews with candidates, and keep track of interview outcomes and feedback.
5. Collaborate with team members – Collaborate with your team members and assign tasks to streamline the hiring process.
6. Reports and analytics – Get insights into your recruitment process and make data-driven decisions, with advanced reporting and analytics tools.
7. Customizable Workflow – Customize the workflow to fit your organizational hiring process.
Managing your recruitment process has never been easier! Try Recruitment Management for RISE CRM today.
[