FOR DEMO WHATSAPP US ON +2348061676089
SEND US A MESSAGE ON FACEBOOK FOR MORE INFO and DEMO
https://facebook.com/websaro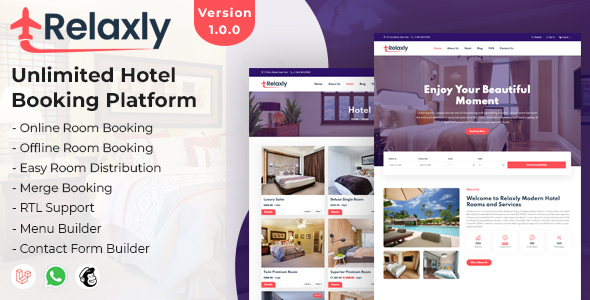 Relaxly is an innovative and feature-rich platform that empowers travelers to book their dream hotel stays without any hassle. Built with the latest technologies, Relaxly offers countless unique features that help travelers to find and book their perfect accommodation with ease.
With Relaxly, travelers get access to an unlimited hotel booking platform that offers a variety of accommodation options from luxury resorts to budget-friendly motels. This one-of-a-kind platform provides an unmatched user experience, enabling travelers to search for the right hotel based on their preferences and budget.
Features:
1. Booking System: Relaxly comes with a powerful and user-friendly booking system that helps travelers to book their accommodation hassle-free.
2. Multiple Payment Gateways: The platform supports a range of payment options, including credit card, PayPal, and more.
3. Customizable Filters: Relaxly comes with advanced search filters that travelers can use to narrow down their search according to specific parameters like location, price, amenities, and more.
4. Reviews and Ratings: This platform offers an extensive review and rating system that allows travelers to read feedback from other users before making a booking.
5. Multiple Languages and Currencies: Relaxly supports multiple languages, enabling travelers to search and book accommodation in their preferred language. Additionally, the platform supports multiple currencies for hassle-free booking.
6. Mobile Responsive: The platform is mobile-responsive, allowing travelers to book their accommodation straight from their mobile devices.
7. Email Notifications: Relaxly sends email notifications to travelers after making a booking, keeping them informed about their reservation details.
Relaxly is the ideal platform for travelers looking for a comprehensive and reliable hotel booking system. It is perfect for frequent travelers, businesses, travel agencies, and anyone looking for a hassle-free booking experience. Get Relaxly today and start enjoying the best hotel booking experience.
[