FOR DEMO WHATSAPP US ON +2348061676089
SEND US A MESSAGE ON FACEBOOK FOR MORE INFO and DEMO
https://facebook.com/websaro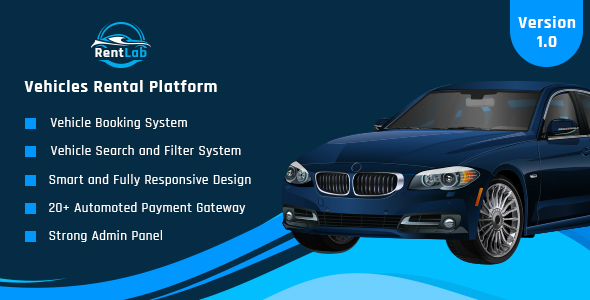 RentLab is a powerful and user-friendly vehicle rental platform designed to streamline the rental process and enhance customer experience. With RentLab, you can effortlessly manage your fleet of vehicles and meet customer demands with ease.
Features:
– User-Friendly Interface: The RentLab platform is designed with a clean and intuitive interface that makes it easy to navigate and use.
– Secure Payment Gateway: RentLab features secure payment gateways that allow you to accept payments from multiple payment methods.
– Fleet Management: The platform enables you to manage your fleet of vehicles with ease through an intuitive dashboard. You can set rental prices, view available vehicles, and schedule maintenance.
– Booking Management: RentLab facilitates easy and hassle-free booking management. You can view and manage reservations, set pick-up and drop-off locations, create rental agreements, and much more.
– Reports and Analytics: Generate and download comprehensive reports and analytics to monitor your rental business' performance and make informed decisions.
– Customizable: RentLab is fully customizable to meet your specific rental business needs. You can choose from a range of templates or create a custom design to reflect your brand's style and preferences.
– Multi-Language and Multi-Currency Support: RentLab supports multiple languages and currencies, making it easier for you to attract and serve a global audience.
– Mobile Responsive: RentLab is optimized for mobile devices, ensuring that customers can book rentals and make payments from any device, anywhere, and anytime.
– SMS and Email Notification System: RentLab has a robust notification system that sends SMS and email notifications to customers for bookings, payment reminders, and other important events.
With RentLab, you can provide your customers with a seamless rental experience and run your rental business efficiently and profitable. Get your copy of RentLab today and take your rental business to the next level!
[