FOR DEMO WHATSAPP US ON +2348061676089
SEND US A MESSAGE ON FACEBOOK FOR MORE INFO and DEMO
https://facebook.com/websaro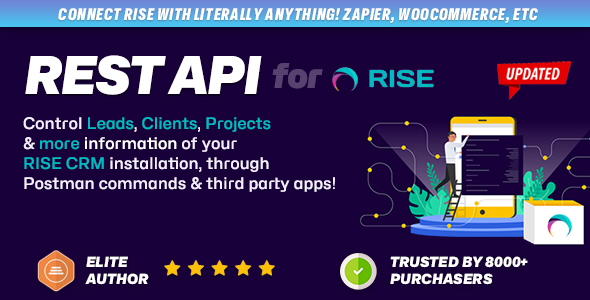 Introducing the REST API plugin for RISE CRM – the ultimate solution for connecting RISE with various third-party applications seamlessly. This robust plugin enables you to automate your workflow and manage your data more efficiently.
Some of the features of this plugin include:
– REST API Integration: The REST API integration allows for a seamless connection between RISE CRM and third-party apps. This allows you to transfer data between systems in real-time.
– Customizable Endpoints: The REST API plugin offers customizable endpoints. This allows you to specify which data is accessible to external apps and how it is accessed.
– OAuth2 Authentication: The plugin comes with OAuth2 authentication to ensure security and control access to your data. You can set up access for third-party applications according to your preferences.
– Query Builder: The REST API plugin includes query builders, allowing you to generate complex queries from your data.
– Bulk Operations: This plugin offers bulk operations to allow you to update multiple records at once, saving you time and increasing efficiency.
– JSON Data Format Support: The plugin supports JSON data format, enabling seamless integration with various third-party applications.
With the REST API plugin for RISE CRM, you can connect your system to multiple third-party applications, improving your workflows and increasing productivity. Get this plugin today and take your CRM management to the next level!
[