FOR DEMO WHATSAPP US ON +2348061676089
SEND US A MESSAGE ON FACEBOOK FOR MORE INFO and DEMO
https://facebook.com/websaro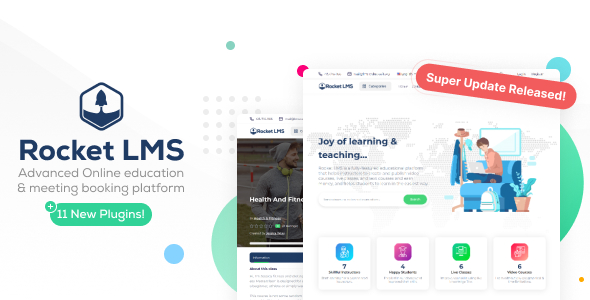 Rocket LMS – Learning Management System is a comprehensive e-Learning platform that offers a complete suite of tools and resources for educational institutions, corporate trainers, and individual teachers. It is designed to deliver interactive and engaging learning experiences to students and learners of all ages.
Some of the key features of Rocket LMS – Learning Management System are:
1. Course Management: Create, organize and manage courses with ease. Add course material, quizzes, assignments, and assessments to your courses for enhanced learning.
2. Student Management: Manage and monitor student activities, track their progress, and assign grades and certificates as needed.
3. User Management: Manage users and their roles and privileges in the system. You can also create custom user fields to capture additional user information.
4. Multimedia: Use a range of multimedia formats including text, images, videos, audio, and embedded content to make your course content more interactive and engaging.
5. Quizzes and Assessments: Create quizzes and assessments with various question types, including multiple-choice, true/false, and short answer.
6. Certificates: Issue certificates to students on course completion, or after passing an assessment or quiz.
7. Social Learning: Enable social learning and peer-to-peer collaboration by creating discussion forums and peer review assignments.
8. Reporting and Analytics: Generate detailed reports and analytics on course completion rates, student performance, and course effectiveness to measure the success of your courses.
9. Customization: Customize your Rocket LMS – Learning Management System to meet your individual needs by changing colors, adding your logo, and customizing text labels.
Rocket LMS – Learning Management System offers an intuitive and user-friendly interface that enables students and teachers to access course material and content with ease. It is a reliable platform that guarantees the security and privacy of user data and is constantly updated with new features and functionality. It is a complete solution for delivering effective e-Learning experiences.
[