FOR DEMO WHATSAPP US ON +2348061676089
SEND US A MESSAGE ON FACEBOOK FOR MORE INFO and DEMO
https://facebook.com/websaro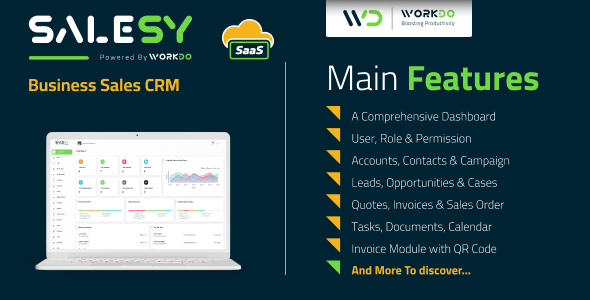 Salesy SaaS is the ultimate business sales CRM that helps you automate your sales process, manage your leads and increase conversions. It is an intuitive, feature-rich tool that is designed for startups, small businesses and sales teams to boost their productivity and revenue. With Salesy, you can stay on top of your sales funnel, track your deals and analyze your sales performance.
**Key Features**
1. **Lead Management:** Salesy helps you streamline your lead management process by capturing leads from multiple sources, tracking their progress, and converting them into paying customers.
2. **Sales Pipeline:** Visualize your sales pipeline so you can see every deal and its stage. Monitor the progress of your deals, quickly update their status, and ensure no deal ever falls through the cracks.
3. **Contact Management:** Easily manage your customers, leads, and prospects with contact management features that enable you to stay on top of your communication.
4. **Email Tracking:** Salesy tracks every email you send and its status, allowing you to know when your message is received, opened, and acted upon.
5. **Sales Forecasting:** Get a sneak preview of your future sales with sales forecasting. Predict trends and make informed decisions with Salesy's charts and reports.
6. **Notifications and Reminders:** Never miss important tasks or deals with Salesy's customizable notifications and reminders.
7. **Integrations:** Salesy integrates seamlessly with a wide range of popular tools like Mailchimp, Zapier, Hubspot, and Google suite, among others.
8. **Mobile App:** Take your sales pipeline with you and manage your deals, leads, and customers on the fly. Salesy's mobile app is available for both iOS and Android.
9. **Data Import and Export:** Import your leads, customers, opportunities, and tasks directly from spreadsheets or other CRMs. Export your data as CSV or Excel files whenever you need them.
10. **Role-based Permissions:** Control who sees what with Salesy's customizable role-based permissions. Give access to what's needed and nothing extra.
Salesy is designed to be your ultimate sales management tool, trusted by thousands of businesses worldwide. Sign up for Salesy today and start automating your sales process, tracking your deals, and increasing your revenue.
[