FOR DEMO WHATSAPP US ON +2348061676089
SEND US A MESSAGE ON FACEBOOK FOR MORE INFO and DEMO
https://facebook.com/websaro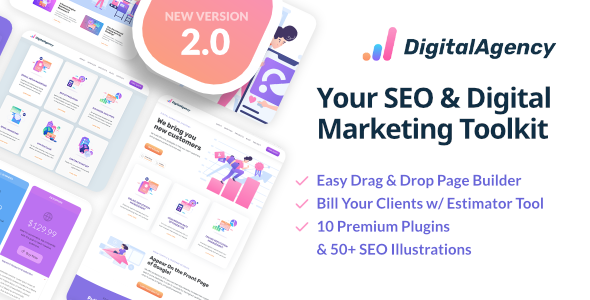 Looking to build a website for your SEO or digital marketing agency? Look no further than SEOWP, the ultimate WordPress theme designed specifically for SEO and digital marketing websites.
With its sleek and professional design, SEOWP is packed with features that are perfect for showcasing your services and reaching a wider audience. From its customizable layout to its easy-to-use interface, SEOWP has everything you need to take your agency to the next level.
Features:
1. Fully customizable layout: With SEOWP, you can easily customize your website's layout to best showcase your brand and services.
2. User-friendly interface: SEOWP's intuitive interface makes it easy for anyone to create a professional, engaging website.
3. SEO optimized design: SEOWP's design is optimized for search engines, ensuring that your website ranks higher on search results pages.
4. Powerful page building tools: SEOWP comes with powerful page building tools that help you create stunning web pages with ease.
5. Premium plugins included: SEOWP includes a number of premium plugins, including Visual Composer and Slider Revolution, which enhance its already impressive functionality.
6. Fully responsive design: SEOWP's design is fully responsive across all platforms, from desktop to mobile, ensuring your website looks great on any device.
7. Advanced theme options: With SEOWP's advanced theme options, customizing your website has never been easier.
8. Social media integration: SEOWP comes with built-in social media integration tools, allowing you to easily connect with your clients and followers on various platforms.
9. Retina-ready graphics: SEOWP's high-resolution graphics ensure that your website looks stunning on retina displays.
Take your SEO or digital marketing agency to the next level with SEOWP, the ultimate WordPress theme designed specifically for the industry. Order now and enjoy the many benefits of a professional, engaging website that stands out from the competition.
[