FOR DEMO WHATSAPP US ON +2348061676089
SEND US A MESSAGE ON FACEBOOK FOR MORE INFO and DEMO
https://facebook.com/websaro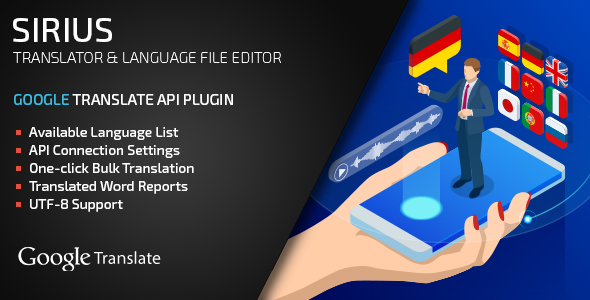 Sirius Language Editor is a powerful Google Translate Plugin that helps you easily translate your website content into multiple languages. With this plugin, you can effortlessly reach a global audience by providing them with content that is available in multiple languages.
Here are some of the key features of Sirius Language Editor:
– Easy to Install: Installing this plugin is a breeze – simply activate it and you're good to go.
– Automatic Translation: The plugin uses Google Translate to automatically translate your website content into multiple languages.
– Multiple Translation Options: You can choose from over 100 different languages to translate your content into.
– Translation Management: You can manually change and edit translations, or you can use the automatic translation feature to save time.
– Content Synchronization: This feature synchronizes your content across all translated versions of your website, ensuring that all versions are up-to-date.
– Shortcode Support: You can use the plugin's shortcode to display translated content in specific areas of your website.
– Customizable Language Switcher: The plugin comes with a customizable language switcher that allows users to switch between different languages.
– SEO Optimized: The translated content is SEO optimized for each language, ensuring that your website ranks well in search results.
– Mobile Responsive: The plugin is fully responsive and works seamlessly on all devices.
With Sirius Language Editor, you can easily expand your reach and cater to a global audience by providing them with content that's available in their preferred language. Try it today and take your website to the next level!
[