FOR DEMO WHATSAPP US ON +2348061676089
SEND US A MESSAGE ON FACEBOOK FOR MORE INFO and DEMO
https://facebook.com/websaro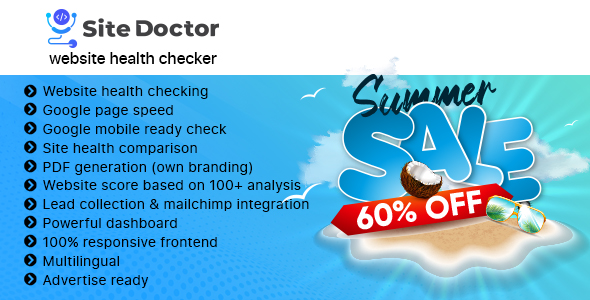 SiteDoctor – Website Health Checker is a complete website analysis tool for checking website health and detecting website issues. With this powerful codecanyon item, you can easily monitor your website's performance, speed, security, and SEO with just a single click. SiteDoctor is a must-have tool for any website owner, marketer, or developer who wants to keep their website in optimal health and achieve better search engine rankings.
Features:
1) Checks website speed: SiteDoctor checks the website's speed and provides a detailed report of all the issues affecting website speed. It also suggests ways to optimize the website for faster loading times.
2) Monitors website uptime: SiteDoctor continuously monitors your website's uptime and notifies you immediately when your website goes down or experiences any error.
3) Detects website issues: SiteDoctor performs a comprehensive check of the website to identify any website issues such as broken links, missing images, and incorrect HTML.
4) Analyzes website security: SiteDoctor identifies potential security threats and vulnerabilities and alerts you to any potential risks.
5) Checks website SEO: SiteDoctor checks the website's search engine optimization and suggests ways to improve search engine rankings.
6) Provides detailed reports: SiteDoctor provides detailed reports for each checkup conducted. The report includes actionable steps to address the issues identified.
7) Easy to install and use: SiteDoctor is easy to install and use, with no technical expertise required. Simply install the codecanyon item and start monitoring your website's health.
In conclusion, SiteDoctor – Website Health Checker is a complete website analysis tool that provides detailed reports and actionable steps to improve website performance, security, and SEO. With powerful features, SiteDoctor is a must-have tool for any website owner, marketer, or developer who wants to keep their website in optimal health.
[