FOR DEMO WHATSAPP US ON +2348061676089
SEND US A MESSAGE ON FACEBOOK FOR MORE INFO and DEMO
https://facebook.com/websaro20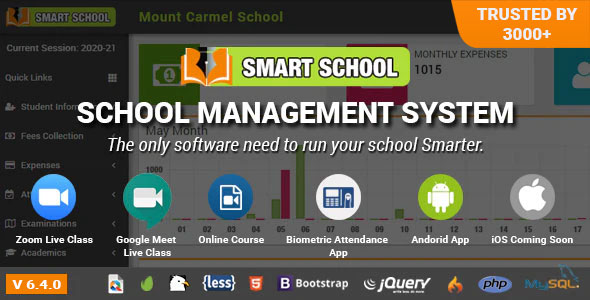 Smart School is a comprehensive and user-friendly school management system that makes the task of managing a school effortless. It boasts an intuitive interface that eliminates the need for complex and time-consuming processes. With Smart School, you can easily carry out a wide range of tasks, thereby streamlining your school's operations and enhancing productivity.
Features:
1. User Management System: Manage students, teachers, and parents. You can also enable users to login using social media accounts like Facebook, Twitter, and Google.
2. Attendance Management: Mark attendance for students and generate attendance reports based on student and class attendance.
3. Exam Management: Create and manage exams, grade sheets, and subject wise marks.
4. Student Dashboard: Students can log in and view their progress report, attendance report, exam schedule, and timetable.
5. Staff Dashboard: Teachers can log in and create lesson plans, schedules, view student grades and attendance reports.
6. Notice Board: Keep the school community up-to-date with all the latest news and announcements.
7. Online Payment Integration: Parents can pay tuition fees online.
8. Library Management: Manage the school library, students can search books and check their borrowing status.
9. Transport Management: Manage transportation and route details.
10. School Calendar: Highlight important dates, holidays, and events.
11. SMS and Email Integration: Send SMS or email messages to parents, students, and teachers.
12. Customizable Settings: Customize the school logo, name, and other details.
Overall, Smart School is the perfect solution for schools that wish to streamline their operations, enhance productivity, and improve transparency in communication. Get it today and transform your school into an efficient and successful institution.

https://codecanyon.net/item/smart-school-school-management-system/full_screen_preview/19426018