FOR DEMO WHATSAPP US ON +2348061676089
SEND US A MESSAGE ON FACEBOOK FOR MORE INFO and DEMO
https://facebook.com/websaro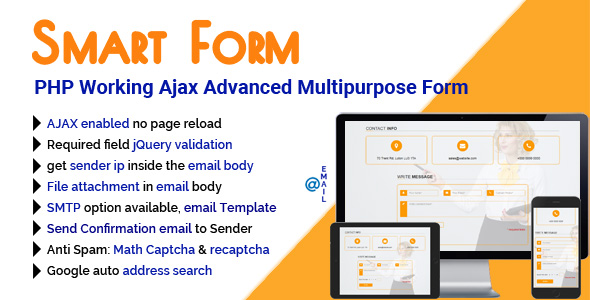 SmartForm is a powerful and flexible PHP script designed to simplify the process of building and managing complex forms. It offers an advanced set of features and options, allowing you to create multipurpose forms that cater to your specific needs. Whether you need a simple contact form or a comprehensive registration form, SmartForm has got you covered.
Features:
1. Easy to use: SmartForm has an intuitive and well-organized interface that makes form creation simple and easy.
2. Advanced validation: The form input data is thoroughly validated to prevent malicious activity.
3. File uploads: SmartForm supports file uploads, allowing users to upload attachments with their form submissions.
4. Customizable: SmartForm offers a wide range of customization options, from custom layouts to custom CSS styles.
5. Responsive design: SmartForm is designed to be fully responsive, meaning it adapts to any screen size or device.
6. AJAX submission: SmartForm is powered by AJAX, which ensures instant form submission without page reloads.
7. Conditional logic: The conditional logic feature allows users to show/hide form fields based on specific conditions.
8. Multiple languages: The script supports multiple languages, meaning you can translate the form into any language of your choice.
9. Support for CAPTCHA: SmartForm supports CAPTCHA, which helps to prevent spam and automated submission.
10. Multiple form types: SmartForm supports various form types, including contact forms, registration forms, survey forms, and much more.
Overall, SmartForm is a powerful and versatile PHP script that simplifies the form building and management process while providing an advanced set of features and options. Whether you're a developer or a non-technical user, SmartForm is the perfect tool for creating and managing complex forms.
[