FOR DEMO WHATSAPP US ON +2348061676089
SEND US A MESSAGE ON FACEBOOK FOR MORE INFO and DEMO
https://facebook.com/websaro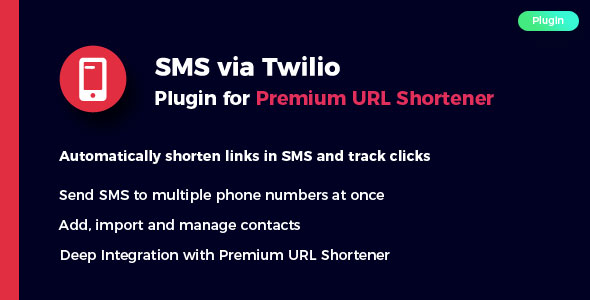 The SMS via Twilio Plugin for Premium URL Shortener is a powerful and user-friendly plugin that allows you to easily send SMS messages to your audience or customer base. With its seamless integration with Twilio, one of the world's leading cloud communications platforms, you can rest assured that your messages will be delivered in a timely and secure manner.
The plugin comes loaded with a host of features that make it an ideal choice for anyone looking to streamline their SMS messaging campaigns. Here are some of the core features you can expect to find:
– Two-factor authentication: The plugin allows you to leverage Twilio's two-factor authentication capabilities, ensuring that your messages are protected against unauthorized access.
– Customizable SMS templates: You can easily customize the content of your SMS messages using the plugin's intuitive interface.
– Subscriber management: You can manage your subscribers through the plugin's simple subscriber management system, allowing you to send targeted messages to specific groups of subscribers.
– Delivery reports: The plugin provides detailed delivery reports, letting you track the status of your sent messages and monitor their effectiveness.
– Automated messaging: The plugin allows you to set up automated messaging workflows, letting you keep your subscribers engaged through a series of pre-defined messages.
– Advanced settings: You can customize advanced settings such as message throttling, sender ID, and message validity period, giving you total control over your messaging campaigns.
In short, the SMS via Twilio Plugin for Premium URL Shortener provides everything you need to manage your SMS messaging campaigns effectively and efficiently. Whether you're a small business owner looking to boost your customer engagement or a marketer seeking to scale your messaging efforts, this plugin is the perfect tool for the job.
[