FOR DEMO WHATSAPP US ON +2348061676089
SEND US A MESSAGE ON FACEBOOK FOR MORE INFO and DEMO
https://facebook.com/websaro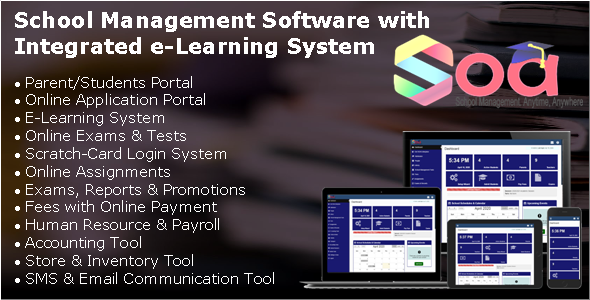 SOA is a comprehensive school management software that comes with an integrated e-learning system and a user-friendly parent/student portal, designed to simplify the full cycle of academic operations. This powerful education tool is built with top-notch technology for efficient communication, encouraging student engagement, and enhancing the learning process.
Features:
1. Student Information System (SIS) – This module manages all student and parent information, academic details, attendance, behavior tracking, grading, and reporting.
2. E-Learning System – SOA offers an online classroom with virtual teaching tools such as whiteboarding, screen sharing, audio, video, and chat.
3. Parent Portal – Parents can monitor their student's academic progress, online attendance, communication with teachers, and assignment submissions.
4. Student Portal – Students have access to class material, homework assignments, online quizzes, discussion forums, and group projects.
5. Library Management – This module maintains the inventory and circulation of books, manages the library due dates, fines, and other library features.
6. Finance And Accounting – This module includes the school's accounts receivable, accounts payable, general ledger, and payroll management.
7. Transportation Management – This module streamlines the transportation service that includes bus routing, pickup and drop-off schedules, and fleet management.
8. Human Resource Management (HRM) – This module serves as a one-stop-shop for HR processes like attendance tracking, leave management, hiring, and termination.
9. Multi-lingual support – SOA supports several languages to cater to non-native speakers.
10. Reporting And Analytics – This module includes an interactive dashboard that provides in-depth insights into academic and administrative processes.
Overall, SOA school management software is designed to meet the needs of school administrators, teachers, students, and parents, making it easy to manage the whole academic process from data entry to report generation.
[