FOR DEMO WHATSAPP US ON +2348061676089
SEND US A MESSAGE ON FACEBOOK FOR MORE INFO and DEMO
https://facebook.com/websaro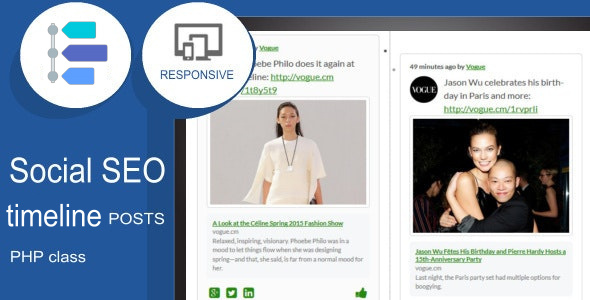 Introducing the ultimate Social Posts timeline PHP class – an easy-to-use solution for developers to showcase social media posts on their websites. This powerful class makes it easy to embed content from Facebook, Twitter, Instagram, and more with just a few lines of code.
Here are some of the key features that make this Social Posts timeline PHP class a must-have for your website:
1. Easy integration: With a simple and intuitive interface, this class can be seamlessly integrated into any website or web application.
2. Multiple platform support: Our class supports multiple social media platforms, including Facebook, Twitter, Instagram, and more.
3. Fully customizable: Customize the look and feel of your Social Posts timeline to blend perfectly with your website design.
4. Responsive design: Our class offers a fully responsive design, meaning that your Social Posts timeline will look great on any device or screen size.
5. Flexible options: Display a specific number of posts or set a date range to only show posts within a certain time frame.
6. Simple caching mechanism: This class includes a caching mechanism to ensure your social media posts load quickly and efficiently.
7. Error handling: With robust error handling built-in, this class helps to ensure that your timeline stays up and running with minimal downtime.
8. Real-time updates: Stay up-to-date with real-time updates for your Social Posts timeline.
With its powerful features and easy-to-use interface, our Social Posts timeline PHP class is the perfect solution for developers looking to bring social media content to their websites or applications. Get started today!
[