FOR DEMO WHATSAPP US ON +2348061676089
SEND US A MESSAGE ON FACEBOOK FOR MORE INFO and DEMO
https://facebook.com/websaro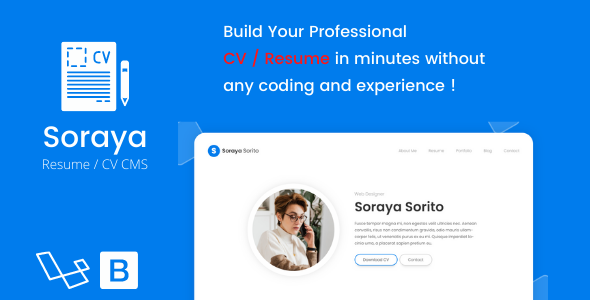 Introducing Soraya – a powerful and effective Resume/CV CMS that will help you effortlessly create and manage your own professional online presence. With an intuitive user interface and a host of powerful features, Soraya makes it easy for you to create, edit and publish your online resume or CV with ease.
Features:
– Responsive Design: Soraya is designed to work seamlessly across all devices, ensuring that your resume or CV looks great whether viewed on a desktop computer, laptop, tablet or smartphone.
– Easy Editing: With a simple and intuitive interface, Soraya allows you to easily edit your resume or CV to reflect your current skills, experiences, and achievements.
– Multi-lingual Support: Soraya's multilingual support allows users to select their preferred language to create their online resume or CV.
– Dynamic Modules: With Soraya's dynamic modules, you can easily add and rearrange the content of your resume or CV to suit your needs.
– Advanced Search Functionality: Find a specific content from your Soraya site in just a few clicks with Soraya's advanced search functionality.
– Online and Offline Resumes: Soraya also lets you choose to generate an offline version of your resume/CV in PDF format, making it easy to print or send via email.
– Social Media Integration: Seamlessly integrate your social media links to your resume or CV.
– Customizable and SEO Friendly: Soraya lets you customize every aspect of your resume or CV to reflect your personal brand, and ensures that your online presence is fully optimized for SEO, giving you the best visibility in front of potential employers.
Whether you're an entry-level job seeker or an established professional, Soraya is the perfect tool to help you create and manage your online resume/CV quickly and efficiently. So why wait? Purchase Soraya today and get started on building your online presence today.
[