FOR DEMO WHATSAPP US ON +2348061676089
SEND US A MESSAGE ON FACEBOOK FOR MORE INFO and DEMO
https://facebook.com/websaro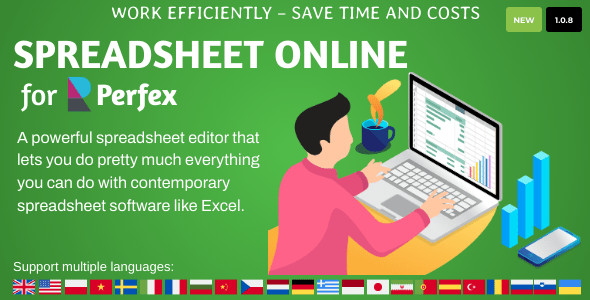 Spreadsheet Online for Perfex CRM is a powerful plugin that allows users to manage their data more effectively and efficiently. With this plugin integrated into your Perfex CRM, you can easily create, edit, and manage spreadsheets online.
This plugin is perfect for businesses, organizations, or individuals who rely on spreadsheets to manage their data. Whether you need to calculate revenues, expenses, or create reports, Spreadsheet Online for Perfex CRM has you covered. It's a cost-effective and easy-to-use solution that provides all the required functionalities for efficient data management.
Key features of Spreadsheet Online for Perfex CRM include:
1. Online editing: With this feature, you can edit your spreadsheets right within your Perfex CRM without the need to download them locally.
2. Save and Load: You can easily save your work and load it later when you need it.
3. Multi-sheet support: This feature allows you to create and manage multiple sheets within a single spreadsheet.
4. Formula support: All popular formulas are supported, so you can work with even the most complex formulas with ease.
5. Export and Import: You can export or import your spreadsheets to different formats like CSV or Excel.
6. Formatting: You can format your cells, change color schemes, and use different fonts, making your spreadsheet look more professional.
7. Versioning: You can keep track of changes made to your spreadsheet and revert to previous versions if needed.
8. Collaboration: Spreadsheet Online supports team collaboration, allowing multiple users to edit a single spreadsheet at the same time.
Spreadsheet Online for Perfex CRM provides an excellent way to bring spreadsheets to your company and take your data management to the next level. With its unbeatable features and easy-to-use interface, it's the perfect tool for businesses looking to improve their workflow and optimize data management. Try it now and see the difference it brings to your organization!
[