FOR DEMO WHATSAPP US ON +2348061676089
SEND US A MESSAGE ON FACEBOOK FOR MORE INFO and DEMO
https://facebook.com/websaro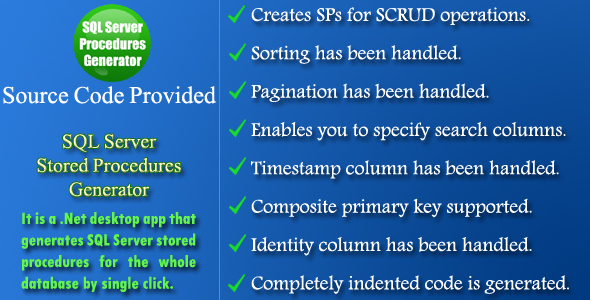 SQL Server Procedures Generator is a powerful tool that enables developers to quickly and easily generate stored procedures for SQL Server databases. With its intuitive interface and robust functionality, this tool makes it simple to create, manage, and execute stored procedures.
The source code for SQL Server Procedures Generator is available for purchase on Codecanyon, giving developers the flexibility to customize and enhance the tool to meet their specific needs.
Key features of SQL Server Procedures Generator include:
1. Customizable templates: Choose from a variety of pre-built templates for stored procedures or create your own custom templates.
2. Automatic code generation: Generate SQL code for stored procedures automatically, including parameters, variables, conditionals, and more.
3. Source code editor: Easily modify generated code with the built-in source code editor, with syntax highlighting and automatic formatting.
4. User-friendly interface: Intuitive interface with drag-and-drop functionality.
5. Robust functionality: Support for multiple output formats, including SQL Server Management Studio, Visual Studio, and more.
6. Fast and agile: Generate stored procedures quickly and efficiently, with streamlined workflows and minimal overhead.
Whether you're a seasoned SQL developer or just starting out, SQL Server Procedures Generator is an indispensable tool for managing stored procedures and improving your database performance. Get started today with the source code available on Codecanyon.
[