FOR DEMO WHATSAPP US ON +2348061676089
SEND US A MESSAGE ON FACEBOOK FOR MORE INFO and DEMO
https://facebook.com/websaro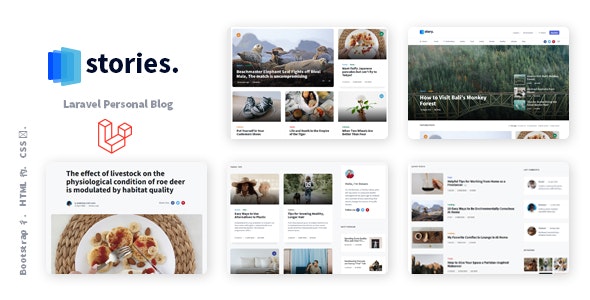 Stories is a powerful Laravel creative multilingual blog that allows users to create and publish articles online. It has an intuitive and user-friendly interface and supports multiple languages, making it perfect for running a blog with a global audience. The system has been crafted with the Laravel framework, ensuring scalability, security, and reliability.
Features:
1. Multiple Language Support: As the world is becoming global, it's essential to cater to everyone's language. Stories support up to 20 languages out of the box, allowing users to create content in their native language.
2. User-friendly Dashboard: Stories dashboard is designed to be easy to use, allowing users to create, edit, publish, and manage their blog posts, all from a single, intuitive dashboard.
3. Search Engine Optimized: Stories is designed with SEO in mind. Each page is optimized for search engines, allowing users to rank higher in search results and attract more readers.
4. Social Sharing: With social sharing capability, readers can easily share articles they find interesting on their social media platforms. This can help increase brand presence, visibility, and user engagement.
5. Responsive Design: Stories has a responsive design that's optimized to work on all devices, from desktop to mobile devices.
6. Multi-User Support: With Stories, multiple users can access and manage your blog simultaneously. Each user can have a different role, ensuring security and reliability.
7. Commenting System: Readers can engage with authors through stories commenting system. It allows readers to post comments, ask questions or even give feedback about the article.
8. Blog and Category Management: Stories provides an easy-to-use admin panel for managing your blog and categories. Through this panel, users can view their existing blog posts, categories, and quickly create new ones.
9. Subscription and Notification: Stories offer email subscription where readers can keep up to date with new posts, and receive notifications when a new article has been published.
10. Advertisements: The Integrated advertisement modules allow users to monetize their blog through banner ads embedded on the homepage, sidebar, and among the blog articles.
In conclusion, Stories is an all-in-one solution that provides bloggers an easy-to-use platform to create blog articles, manage categories, and communicate with their audience. If you're looking to start a new blog, deploy a multilingual website, or even upgrade to a more powerful blogging platform, then Stories is the application you should choose.
[