FOR DEMO WHATSAPP US ON +2348061676089
SEND US A MESSAGE ON FACEBOOK FOR MORE INFO and DEMO
https://facebook.com/websaro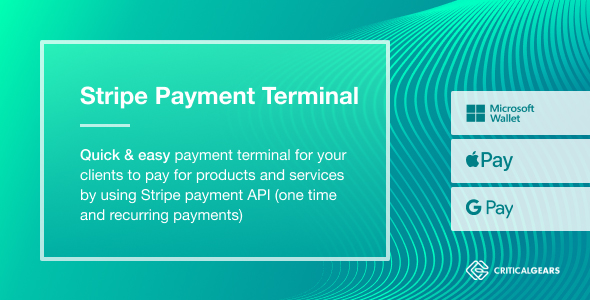 Stripe Payment Terminal is a powerful payment gateway solution that allows you to seamlessly integrate secure, reliable and easy-to-use payment processing functionality into your website or application. With Stripe Payment Terminal, you can accept payments from customers all over the world, using Stripe's payment processing platform, which is trusted by top brands and millions of businesses worldwide.
Key features:
1. Secure payment processing: Stripe Payment Terminal integrates with Stripe's secure payment processing platform, ensuring that all transactions are safe and secure.
2. Easy integration: Stripe Payment Terminal is designed to be easy to integrate into any website or application to start accepting payments instantly.
3. Widget-based UI: The payment terminal comes with a simple and intuitive Widget-based UI that can be easily customized to match the style of your website or application.
4. Comprehensive payment options: Stripe Payment Terminal lets you accept major debit and credit cards, Apple Pay, Google Pay, and other major payment methods.
5. Real-time analytics: Stripe Payment Terminal comes equipped with powerful analytics tools that give you real-time insights into your payment transactions.
6. Automatic refunds: The payment terminal streamlines the refund process, making it easy to initiate and track refunds.
7. Customizable settings and preferences: With Stripe Payment Terminal, you can customize your payment preferences, set up recurring payments, and more.
8. Multi-currency support: Stripe Payment Terminal supports payments in over 135 currencies, making it easy to cater to customers from all over the world.
Overall, Stripe Payment Terminal offers a comprehensive, user-friendly solution for businesses looking to accept payments on their website or application. So why wait? Get started with Stripe Payment Terminal today and start unlocking the full potential of your payment processing capabilities.
[