FOR DEMO WHATSAPP US ON +2348061676089
SEND US A MESSAGE ON FACEBOOK FOR MORE INFO and DEMO
https://facebook.com/websaro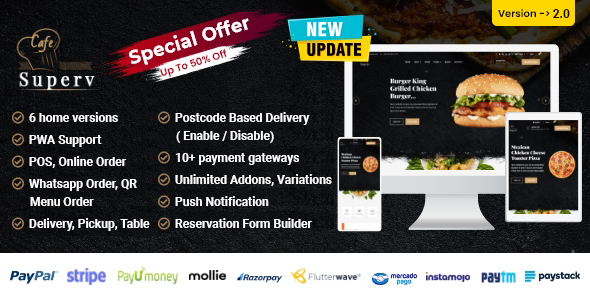 Superv is a comprehensive restaurant website management system that includes food ordering and QR code menu features. With Superv, you can easily manage your restaurant's website and streamline your business operations.
Key Features:
1. Easy Restaurant Website Management: Superv makes it easy to manage your restaurant's website without any coding skills. You can customize the look and feel of your website with user-friendly drag-and-drop tools.
2. Food Ordering System: Superv's integrated food ordering system gives your customers the ability to order online, directly from your website. This feature allows for easy management of your restaurant's orders and sales.
3. QR Code Menus: Superv provides QR code menus that enable customers to access your restaurant menu from their smartphones. This feature is perfect for contactless ordering, and it helps to eliminate the spread of germs in your restaurant.
4. Table Reservation System: Superv includes a table reservation system that allows customers to reserve tables in advance. This feature makes it easy to manage your restaurant's seating arrangements and customer flow.
5. Payment Gateway Integration: Superv integrates with payment gateways to allow customers to pay for their orders online, making the ordering process seamless and hassle-free.
6. Multi-Language Support: Superv supports multiple languages, making it easy for customers to order in their preferred language. This feature helps to improve customer experience and satisfaction.
7. Reporting and Analytics: Superv provides comprehensive reporting and analytics tools that enable you to track your restaurant's performance and make informed decisions.
With Superv, you can take your restaurant's online presence to the next level with ease. Start managing your restaurant website, food orders, and more with Superv today!
[