FOR DEMO WHATSAPP US ON +2348061676089
SEND US A MESSAGE ON FACEBOOK FOR MORE INFO and DEMO
https://facebook.com/websaro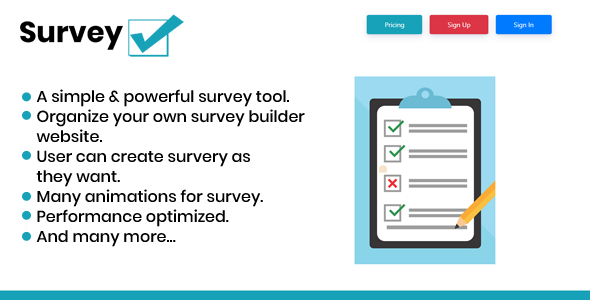 SurveyTickMark is a powerful and easy-to-use SaaS Simple Survey Builder that allows you to create, manage, and analyze surveys in just a few clicks. Whether you need to create a short questionnaire for your business, an online quiz for your website, or a comprehensive market research survey for your clients, SurveyTickMark has got you covered. With its intuitive design, flexible features, and advanced analytics tools, this survey builder is the perfect solution for businesses, marketers, researchers, and educators who want to collect data quickly and efficiently.
Features:
1. Customizable Surveys: With SurveyTickMark, you can create surveys with multiple question types, including text, multiple choice, rating, and more. You can also customize the look and feel of your surveys by choosing from a variety of themes and colors.
2. Easy-To-Use Editor: The intuitive visual editor lets you create surveys easily and quickly. You can add, edit, and delete questions, as well as adjust the order of questions with ease.
3. Advanced Analytics: SurveyTickMark's advanced analytics tools help you to analyze your data in real-time, including statistical analysis, graphical representation, and customizable reports. You can also export your data in various formats like PDF, CSV, and Excel for further analysis.
4. Team Collaboration: With SurveyTickMark, you can collaborate with your team in real-time by inviting them to your account, assigning roles, and sharing survey results.
5. Secure and Reliable: SurveyTickMark is hosted on secure, high-performance servers and includes SSL encryption for all data transfers. Your data is also backed up regularly, ensuring that it's safe and always available when you need it.
6. Multiple Integrations: SurveyTickMark integrates with popular software and services like Zapier, HubSpot, Mailchimp, and more, which makes collecting survey data and automating workflows a breeze.
With SurveyTickMark, you can create high-quality surveys that deliver actionable insights. Try SurveyTickMark Today!
[