FOR DEMO WHATSAPP US ON +2348061676089
SEND US A MESSAGE ON FACEBOOK FOR MORE INFO and DEMO
https://facebook.com/websaro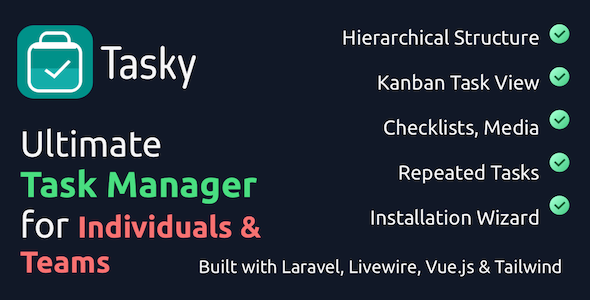 Tasky is a complete task management solution that helps individuals and businesses stay organized and on top of their to-do lists. With its user-friendly interface and robust feature set, Tasky makes it easy to manage and track tasks, projects, and deadlines.
Tasky boasts a range of powerful features designed to streamline and simplify task management. Here are just a few of its key functions:
– Task creation and assignment: Create new tasks with ease and assign them to team members as needed. Tasky allows you to set due dates and priorities for each task, so you never miss a deadline.
– Project management: Tasky makes it simple to manage complex projects. Create project timelines, track progress, and assign tasks to specific team members for streamlined collaboration.
– Time tracking: Keep track of how much time is spent on each task with Tasky's built-in time tracking functionality. This helps identify where time is being wasted, and where tasks can be optimized.
– Reminders and notifications: Stay on top of deadlines and important tasks with Tasky's customizable reminder and notification system. Get alerts when tasks are coming due, or when they have been updated or completed by team members.
– Reporting: Tasky offers a suite of reporting tools that allow you to get insight into your team's productivity and performance. Generate reports on completed tasks, overdue tasks, and more to ensure that everyone is staying on track.
With Tasky, you can say goodbye to cluttered inboxes, missed deadlines, and being swamped with multitasking. Tasky helps you stay organized, focused, and productive, no matter what you're working on. Try Tasky today and see just how easy task management can be!
[