FOR DEMO WHATSAPP US ON +2348061676089
SEND US A MESSAGE ON FACEBOOK FOR MORE INFO and DEMO
https://facebook.com/websaro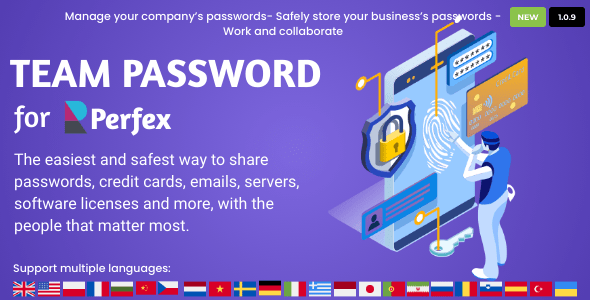 Introducing Team Password for Perfex CRM, a secure and efficient password management solution that helps your team stay organized and secure. With this powerful addon, managing and sharing passwords across your team becomes easy and hassle-free.
Here are some of the key features of Team Password for Perfex CRM:
1. Secure password storage
Team Password comes with a secure password storage system that ensures that all your passwords are kept safe and secure. The addon encrypts your passwords using strong encryption algorithms, so you can rest assured that your sensitive information is not accessible to anyone other than authorized users.
2. Easy password sharing
Using Team Password, you can easily share passwords with your team members without having to worry about security concerns. You can grant access to specific users, groups, or roles, and also set permissions to limit what each user can do with the passwords.
3. Create custom categories
You can use the addon to create custom categories for your passwords. This helps you stay organized and makes it easy to find the password you need quickly.
4. Access logs
Team Password keeps a log of all the activities related to your passwords. You can see who has accessed a password and when, so you always know who has access to your sensitive information.
5. Password generator
With the password generator, you can create strong and unique passwords with just a click of a button. This helps you stay ahead of cyber threats and keeps your accounts secure.
In summary, Team Password for Perfex CRM is a comprehensive and user-friendly password management solution that helps you stay organized, secure, and efficient. Get it now and take the first step towards better password management for your team!
[