FOR DEMO WHATSAPP US ON +2348061676089
SEND US A MESSAGE ON FACEBOOK FOR MORE INFO and DEMO
https://facebook.com/websaro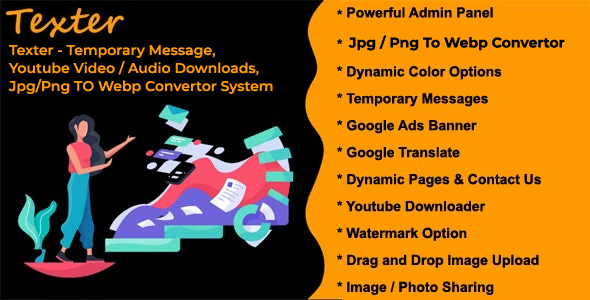 Texter – Temporary Message, YouTube Video / Audio Downloads, JPG / PNG to WebP Converter System
Texter is a multi-functional tool for all your messaging and media needs. With this system, you can send temporary messages, download YouTube videos and audio, and convert JPG and PNG files to WebP format. This all-in-one solution makes it easy to communicate and share media with others.
Features:
1. Temporary Messaging: Texter lets you send temporary messages that are automatically deleted after a certain time. This feature ensures your privacy and security when sharing sensitive information.
2. YouTube Video / Audio Downloads: With Texter, you can easily download YouTube videos and convert them into audio files. This allows you to enjoy your favorite content even when you're offline.
3. JPG / PNG to WebP Converter: Texter comes equipped with a powerful image converter that allows you to convert your JPG and PNG files to the new and popular WebP format. This will help improve your website's loading speed and overall performance.
4. User-Friendly Interface: The system has a simple and intuitive user interface that makes it easy for anyone to use. You don't need to have any technical knowledge to start using Texter.
5. Fast and Reliable: This system is designed to be fast and reliable, ensuring that you can send messages and share media files seamlessly. You can also be sure that your data is secure and protected at all times.
6. Customizable Settings: Texter allows you to customize your message and media settings. You can choose the duration of your temporary messages, the quality of your media downloads, and the output format of your image conversions.
With all these features and more, Texter is the perfect solution for anyone looking for a simple yet powerful tool for messaging and media sharing. Try it out today!
[