FOR DEMO WHATSAPP US ON +2348061676089
SEND US A MESSAGE ON FACEBOOK FOR MORE INFO and DEMO
https://facebook.com/websaro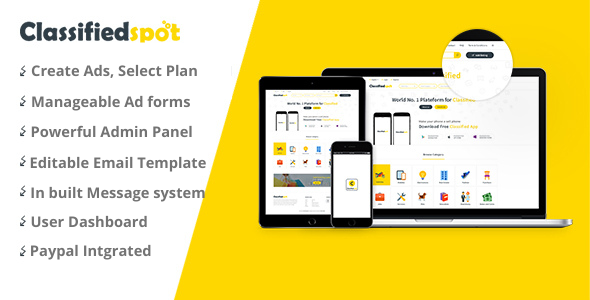 TMD Classified Script is an all-in-one classifieds website solution that allows you to easily create and manage your very own classifieds website. With TMD Classified Script, you can set up your website in minutes and start connecting with buyers and sellers around the world.
Here are some of the key features of TMD Classified Script:
1. User-friendly interface: The script is designed with a user-friendly interface that makes it easy for users to navigate the website and find what they are looking for.
2. Customizable themes: The script comes with multiple customizable themes that allow you to choose the one that best fits your website's niche and style.
3. SEO-friendly: TMD Classified Script is designed to be search engine optimized, making it easier for your website to rank higher in search engine results.
4. Responsive design: The script is fully responsive, meaning that your website will look great on any device, be it a smartphone, tablet, or desktop computer.
5. Payment Gateway Integration: The script supports multiple payment gateways like PayPal, Stripe, CC Avenue, PayU India, Paytm, and Razorpay.
6. Email and SMS Notifications: TMD Classified Script provides automated email and SMS notifications to both buyers and sellers for their actions on the website.
7. Custom Fields: The script allows you to create custom fields for different categories, helping you to create a more personalized website.
8. Social Login: The script supports social login via Facebook, Google, and Twitter, allowing users to easily sign in and sign up with their social media accounts.
9. Multi-Language: The script supports multiple languages and allows you to easily translate the website into different languages.
10. Advanced Search: The script comes with an advanced search feature that allows users to search for ads based on various criteria like location, price, category, and more.
If you're looking for a powerful and user-friendly classifieds website builder, TMD Classified Script is the perfect solution for you. With its plethora of features and easy-to-use interface, you can quickly set up your own classifieds website and start connecting with buyers and sellers from around the world.
[